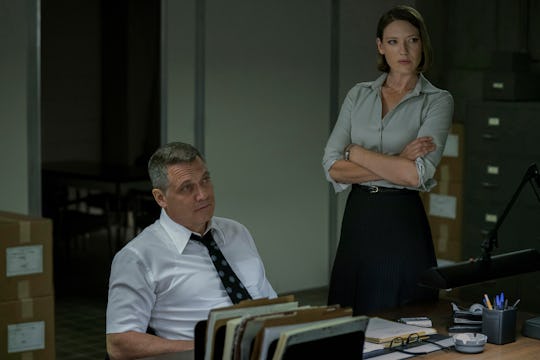 Patrick Harbron/Netflix
Wendy From 'Mindhunter' Is Based On An Instrumental Figure In History
Netflix's new crime series might not be true crime in the traditional sense of the word, but the setting and many of the characters are all based in reality. So is Wendy from Mindhunter based on a real person? Just like her fellow main characters, Holden Ford and Bill Trench, Wendy is based on an actual person who was instrumental in researching the psychology of serial violent offenders.
Mindhunter is a different sort of crime show in that it is less about dramatic car chases, police shootouts, and grisly murders and more about figuring out exactly what makes a psychopath a psychopath and why these people commit the vicious and terrible crimes they do. It is based on the book Mind Hunter: Inside the FBI's Elite Serial Crime Unit written by psychological profiling pioneer John Douglas, who, incidentally, is the character inspiration behind the star of the show, Holden Ford.
In the series, Wendy is a brilliant psychologist who is extremely interested in the work that the two FBI agents have done with regards to understanding serial killers. In the trailer she says, "Psychopaths are convinced that there's nothing wrong with them so these men are virtually impossible to study. But you have found a way in near perfect laboratory conditions. That's what makes this so exciting and potentially so far-reaching."
In Netflix's production notes, Anna Torv, who plays Wendy, says of her character: "She's fascinated with what they've come up with. Because she thinks it can help not only people in law enforcement, but it's her area of interest as well. There really isn't a way to find people like this, let alone sit down and interview them. So she's incredibly excited."
The real life inspiration behind Dr. Wendy Carr is Dr. Ann Wolbert Burgess who is now a professor of nursing at Boston College. In the '70s, she rose to prominence for her work with traumatized rape victims. With Lynda Lytle Holmstrom, Burgess co-founded one of the first hospital-based crisis counseling programs for rape victims. They also wrote a groundbreaking article that introduced the phrase "rape trauma syndrome." From there, she went on to work closely with the FBI to create psychological profiles of serial offenders including serial killers and rapists. Presumably it is this period in her life that the show will fictionalize for Mindhunters. I can't really say whether Burgess herself would describe her feeling as "excited" when doing this work. But what I can say is that she was definitely instrumental in changing how we see crime today.
In 2013 Burgess received the Living Legend Award from the New England Chapter of the American Psychiatric Nurses Association (NEAPNA). In her long career as a forensic nurse, Burgess has received international recognition in the medical and legal communities. She is often called upon for her expert testimony in court, which has been termed "groundbreaking." In addition to the Living Legend Award, Burgess has received several other awards, and has even had an award named in her honor by the International Association of Forensic Nurses known as the Ann Burgess Forensic Nursing Award, which honors those who have made "exceptional research contributions to the field of forensic nursing." Suffice to say, she's kind of a big deal.
Of course, Dr. Wendy Carr in the show is a fictionalized interpretation of Burgess. Mindhunters is focused mostly on the twisted minds of the serial killers, while Burgess' work seems to focus primarily on the psychology of the victims of those crimes. Hopefully this will add an additional layer to the research explored in the show. Too much focus on evil might be too much to handle. But then again, I'm a huge true crime fan, so we'll see. In either case, I can't wait!
Watch Romper's new video series, Romper's Doula Diaries:
Check out the entire Romper's Doula Diaries series and other videos on Facebook and the Bustle app across Apple TV, Roku, and Amazon Fire TV.