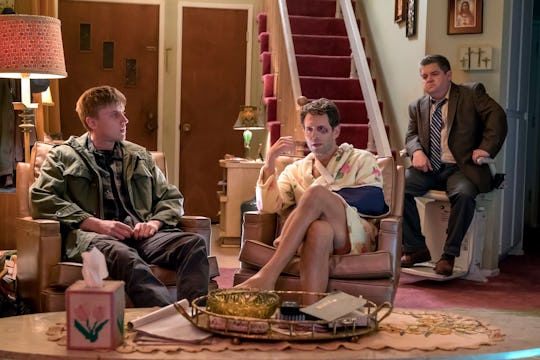 Ron Batzdorff/NBC
Whitlock High From 'A.P. Bio' Is The Best Worst School You'll Ever See
If you're looking for a new comedy series to become obsessed with look no further than NBC's new comedy A.P. Bio. The new TV show stars It's Always Sunny in Philadelphia alum and co-creator Glenn Howerton as Jack Griffin, the new A.P. Bio teacher at Whitlock High School. So is Whitlock High from A.P. Bio a real school? Well, not exactly.
It seems like the high school was made up for the sake of the show, but there was a Whitlock Junior High in Spartanburg, South Carolina; A.P. Bio is set in Toledo, Ohio. Unfortunately, Whitlock Junior High actually closed in 2010. So along with the fact that this was a junior high school and it was in a different state than where the show is set, there doesn't seem to be any connection between the real Whitlock Junior High and the fictional Whitlock High School.
This is great since if there was a real Whitlock High School they probably wouldn't be happy with how their school is being portrayed. Or, specifically, how their staff is being portrayed. Jack makes it clear in the trailer for the series that he has no intention of actually teaching his students and only started working at the high school because he didn't get the job of Head of Philosophy at Stanford University. This is despite the fact that he's a Harvard grad and an award-winning philosopher, which something he tells the students so they know that there's literally nothing they could possibly teach him in return.
Instead of actually teaching these kids biology, Jack's plan is to use them to help him get revenge on his academic rival, Miles Leonard. For example, because Miles is adopted and British, Jack tasks his students with learning how to perfect a British accent. Whoever is able to do it the best will then pretend to be Miles birth mother and tell him some earth-shattering secret. Obviously, Jack's maturity isn't all that high, but one of his students actually seems into the idea. Another asks the question everyone is probably wondering: "What is this class?"
Jack is clearly not fit to be teaching a high school class, but at least it looks like there will be someone around to keep him in line. Patton Oswalt, who you may recognize from Agents of S.H.I.E.L.D. and Veep, will be playing Jack's boss, Principal Durbin. Although it was probably Principal Durbin who got Jack this job in the first place, he does reprimand Jack in the trailer by reminding him he can't just leave his class alone. Still, somehow it seems doubtful Principal Durbin will actually be able to keep much of a handle on Jack and his nontraditional teaching methods.
Also starring in the new series is Lyric Lewis, Mary Sohn, and guest starring in the pilot episode is Saturday Night Live's Vanessa Bayer. Bayer's appearance on the show shouldn't be surprising since the series was actually created by SNL cast member Mike O'Brien, who will also executive produce the series along with Lorne Michaels and Seth Meyers. Thus, you should probably expect a few more SNL cameos throughout the first season.
While the premise of the show may sound a bit outlandish, that's usually the case for most comedy series and with a great writing team behind it, along with a great cast, A.P. Bio definitely has a good shot at being a hit. You can catch a preview of the new series Thursday, Feb. 1 at 9:30 p.m. ET on NBC, before the series officially premieres in March. Don't miss it!
Check out Romper's new video series, Romper's Doula Diaries:
Watch full episodes of Romper's Doula Diaries on Facebook Watch.