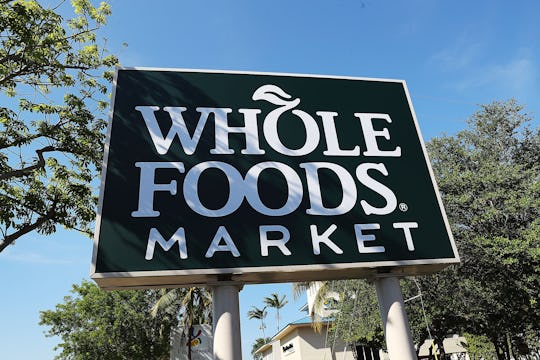 Joe Raedle/Getty Images News/Getty Images
If Whole Foods Is Your Go-To Grocery Spot, Plan Your Xmas Dinner In Advance
Picture it: It's Christmas Eve, and the stockings have been hung on the chimney with care. Your kiddos are tucked in their beds, pretending to sleep as they desperately listen for hoofbeats on the roof or a jolly laugh. You're about to get into your gift wrapping grind before the little monsters wake you up at the crack of dawn, clamoring to see what Santa brought, when your stomach drops. You forgot to buy the materials for your special holiday french toast, and you can't remember if Whole Foods Market is open on Christmas or not.
As you sift through sheets of wrapping paper and take a swig of hot chocolate, you consider your options. The gremlins don't need the french toast. They would survive without it. They might not even notice it isn't there because they'll be so busy playing with the new dollhouse. But then you remember how you've made the same breakfast every year since your oldest had enough teeth to chew it, and that Whole Foods is the only store with the special syrup your five year old likes. You sigh and look at the clock: It's 8:00 p.m., so you could theoretically make it before the store closes. As you eye the pile of unwrapped presents you still have to make look presentable sometime in the next twelve hours, you think going in the morning would be a lot easier.
As tempting as it would be to not have to leave the house on Christmas Eve, you're going to have to if this particular situation happens to you. All Whole Foods Market locations will be closed on December 25, as confirmed by a WFM media rep, and open until 7 p.m. on Christmas eve. But be warned, individual stores may have modified hours on Christmas Eve, so be sure to check your local store's hours before heading out in your gift wrapping stupor. Basically, I'd try to get everything you need by Christmas Eve afternoon just to be sure you're safe.
I have hope you won't forget any necessary Christmas ingredients after reading the horrifying picture I've painted for you, though. Actually, you'll probably going to try to figure out a way to make your holiday breakfast way in advance instead, which probably does make the most sense even if it adds something else to your plate on Christmas Eve. If you need help thinking of some ideas, I recommend one of these Crock-Pot breakfast recipes. You can prepare whichever dish you choose as you do your last minute Christmas prep the evening before, and the perfect way to start your day will be waiting to be served by the time your kids tear through their presents.
Also, the kids really would be fine if you forgot the french toast ingredients. They'll definitely be more concerned with getting batteries into their new robotic dog than with their stomachs, and they'll still think you're the mom of the year. Worst case scenario, just take them to Waffle House after they finish opening everything; the king of waffles is open 24 hours a day, 365 days a year.
This first-time mom wants to have a home birth, but is she ready? Watch how a doula supports a military mom who's determined to have a home birth in Episode One of Romper's Doula Diaries, Season Two, below. Visit Bustle Digital Group's YouTube page for the next three episodes, launching every Monday starting November 26.