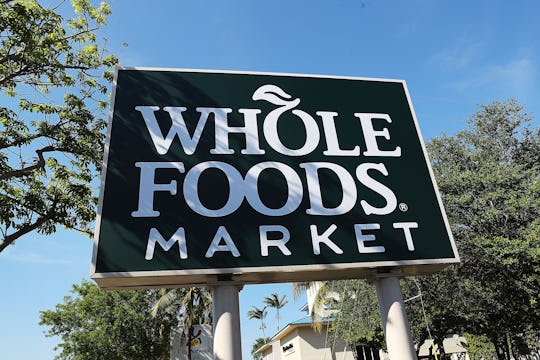 Joe Raedle/Getty Images News/Getty Images
Is Whole Foods Open On Memorial Day 2018? Your Cookout Depends On It
If you've googled any store opening hours in the last few days, you might have noticed a little phrase starting to pop up: "Memorial Day might affect these hours." And while you haven't yet considered whether the places you frequent on a regular basis will be open on Monday, May 28, there is no time like the present to figure out if Whole Foods is open on Memorial Day, especially if it is one of your go-to grocery stores.
Good news for you foodie types, Whole Foods is open on Memorial Day and they will have regular hours at all of their locations, according to the Whole Foods website. The store also took the opportunity to thank those who have served and are serving in the military for their service, which is a welcome reminder of the reason behind the holiday. We may have the day off and get a chance to spend time with loved ones, but it's also important to remember the real reason why this day is important.
In addition to reassuring us all about their opening hours and reminding us about the meaning behind Memorial Day, Whole Foods also has a whole lot to offer in terms of Memorial Day recipes on their website. They suggested a few sides that would go well with anything you're grilling this Memorial Day, including a grilled vegetable panzanella salad and a stone fruit and tomato salad. Don't those recipes just shout summertime?
Of course, there are other ways we can all celebrate Memorial Day than sitting around, binging on chips and dip. In fact, the National Moment of Remembrance was instituted for just that reason, encouraging Americans to take one minute at 3 p.m. on Memorial Day to remember the veterans who have died fighting for our country. Memorialday.org explained, "Memorial Day represents one day of national awareness and reverence, honoring those Americans who died while defending our Nation and its values. While we should honor these heroes every day for the profound contribution they have made to securing our Nation's freedom, we should honor them especially on Memorial Day." One minute sounds pretty doable, doesn't it? And for a very compelling reason.
Another way to celebrate Memorial Day is to take your kids (or just yourselves) to a Memorial Day parade. When I was a kid, the draw was being able to decorate my bike in order to participate in the parade, and when I was older, the yearly parade involved watching my brother play saxophone in the marching band. But one thing is for sure: a parade is way more enjoyable for everyone involved if people show up to watch it. Just think of how much more meaningful it will be for the veterans marching in the parade to have a crowd there supporting them.
Watching a Memorial Day parade is also an important opportunity to start a conversation with your children about the holiday and what it represents. Whatever your political beliefs, discussing different careers and the ways people choose to serve others is an important part of bringing up kids.
Many of us have grandparents or great-grandparents who served in the military, so visiting their graves and talking about their lives and their service is another way to honor those who fought for certain freedoms we enjoy daily. Many members of older generations don't talk much about those years (they weren't part of the oversharing social media generation that's upon us) but they almost always have incredible stories to tell about their experiences in times that are so different from now. It's worth asking your grandparents or great-grandparents who are alive about those experiences this Memorial Day — over a burger and a side of grilled vegetable panzanella.