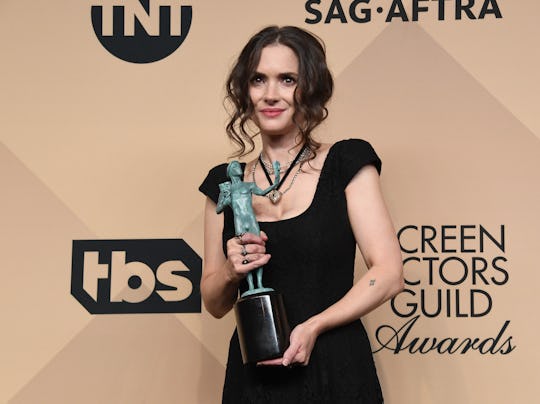 Alberto E. Rodriguez/Getty Images Entertainment/Getty Images
Why Was Winona Ryder Missing From The 2017 Emmys?
Just as the red carpet at this year's Emmy Awards wrapped up, there was one notable face missing from the sea of celebs. So, was Winona Ryder at the 2017 Emmys with the rest of her co-stars? Turns out, the Stranger Things actress was indeed missing from the night's festivities and it was possibly due to a pretty valid reason.
When the list of Emmy nominations was announced over the summer, Ryder was not among the outstanding actresses for her performance in Stranger Things, although the show itself was up for a long list of 18 awards.
And for fans of the show, this was surprising. Or as Refinery29 dubbed the decision, "downright weird." The site went on to explain:
Ryder's portrayal of a desperate mother searching for her son was moving, emotional, and big. It's the kind of meaty part that typically earn actresses an Emmys nod, especially when the show is already a critical darling. It was also a huge comeback role for Ryder, who, despite basically being a cultural icon thanks to movies like Heathers and Beetlejuice, hasn't had a mainstream starring role in quite some time.
And back in July, when the nominations were first revealed, Stranger Things fans were pretty outraged.
And, come Sunday and the days leading up the big event, people were still pretty upset that Ryder wasn't in attendance and getting the attention they feel she deserved.
For fans of Ryder, this outrage isn't coming out of nowhere. As entertainment news website Golderby pointed out, the 45-year-old actress has a track record of not getting recognized at awards shows.
"This bad luck is all too common for Ryder, who has often had surprising and disappointing outcomes when it comes to major Hollywood acting honors such as the Oscars and Emmys," according to Golderby, adding that her missing nomination was "particularly odd since the category wasn't one of this year's more competitive ones."
She may not have been rewarded with a trophy by Hollywood at the 2017 Emmys, but Ryder's role has resonated with many fans. As Nylon once described her performance on the show:
In Stranger Things, Winona Ryder's presence reminds us that it's okay for us to be strange, no matter what point we're at in our lives; rather, it's not just okay to be strange, it's pretty much necessary, because as strange as we might be, the world is always stranger, and so we might as well embrace it.
Sure, many would say that Ryder got "snubbed" this year at the Emmys. But her work on the hit Netflix series hasn't gone completely unnoticed. In fact, Ryder was in attendance at the SAG Awards in January when the cast of Stranger Things snagged a win for outstanding performance by an ensemble in a drama series.
And while that win was notable enough, it was Ryder's reaction to co-star David Harbour's impassioned acceptance speech that stole the show. Why? Well, see below:
It's not entirely clear why Ryder donned such unique facial expressions for Harbour's speech, but co-star Gaten Matarazzo said she probably reacted as such because she had a hard time hearing him and wasn't at a dinner when Harbour practiced the speech, as HuffPost reported.
Unless Ryder reveals why she decided to sit out the 2017 Emmys, the reason is really anyone's guess. Perhaps she needed a break from all the attention from the SAG Awards. Or maybe she did feel snubbed when she didn't get an Emmy nod this year and wasn't in an celebratory mood. But, whatever the actual reason may be, she's allowed to make these calls. And honestly, stranger things have happened [ahem, Sean Spicer].
Watch Romper's new video series, Romper's Doula Diaries:
Check out the entire Romper's Doula Diaries series and other videos on Facebook and the Bustle app across Apple TV, Roku, and Amazon Fire TV.