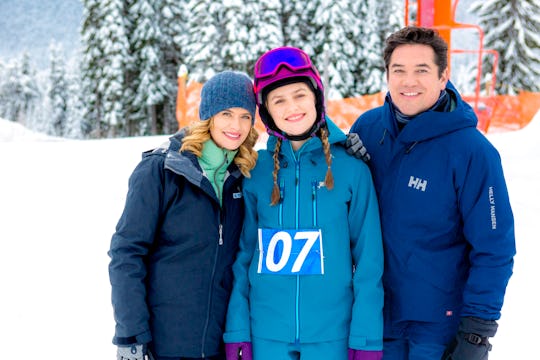 Hallmark
This New Hallmark Movie Is Guaranteed To Sweep You Off Your Feet
Made for TV movies are pretty much known for being totally unrealistic, which is why it should come as no surprise that the latest Hallmark movie, Winter's Dream, isn't based on a true story. It would be a lot cooler if it was though, right? However, that doesn't mean it's not the perfect flick to watch while procrastinating about cleaning your house or doing errands after it premieres this Saturday Jan. 27 on the Hallmark Channel.
The film stars Dean Cain and Kristy Swanson, so you know the acting is going to be good. The movie is about a former professional skier named Kat (Swanson), who had an embarrassing loss back in her glory days. She now works as a ski instructor and shop worker on the fictional Bliss Mountain. Meanwhile, Cain portrays a widowed father named Ty, who comes to Bliss with his daughter Anna all the way from New York to train with another former ski champion and one of Kat's former teammates, Maddy.
Maddy is super rough on Anna though, so Kat ends up helping her out instead. While coaching his daughter, Ty and Kat get close and eventually fall in love. Because of course they do — this is a Hallmark movie after all. In the meantime, though, Anna has a fall and starts second-guessing herself, so they all come together to "look deep within to conquer their fears and push forward," according to the official summary.
Although the story isn't real, the chemistry between Swanson and Cain definitely is. In an interview with the Hallmark channel, Swanson said that she and the former Superman go way, way back and that's fun with him on set, stating:
He's a friend, he's so supportive and you can go to him anytime. If you don't understand something's going on or you wanna run some lines, or watch some football or whatever [he's always there for you]. He's a great guy and he's so much fun and he's a great friend. He's a friend of my family and all that.
The feeling is mutual, according to Cain, who called Swanson "a joy to work with. She's funny, she's smart, she's beautiful, and she does a great job as Kat." He also added:
Kristy's a wonderful person to play opposite of, I've done it several times. She's wonderful, we have great chemistry, and she's just a fantastic actress and person.
Cain has been busy acting, though he told Fox News that he's picky about what he stars in based on his faith. "I just try to make movies that I enjoy, that might have a nice message for my son or for my family or for other families," he said. He also now makes regular appearance on Fox News to voice his opinion on various conservative issues. He told the outlet that just because he's an actor doesn't mean he doesn't have opinions. Cain said in the same interview:
I think it's important as an American, as a citizen, to go and talk about things, to try and educate yourself because the general public wants to be educated on these things and maybe if it's a face they'll recognize, they'll pay attention.
So even though the movie isn't based on a true story, the friendship between Cain and Swanson is very, very real. As is their dedication to making movies that you'll love to binge watch all afternoon. That's good enough, right? I mean, how else am I supposed to get through the winter season?
Check out Romper's new video series, Romper's Doula Diaries:
Watch full episodes of Romper's Doula Diaries on Facebook Watch.