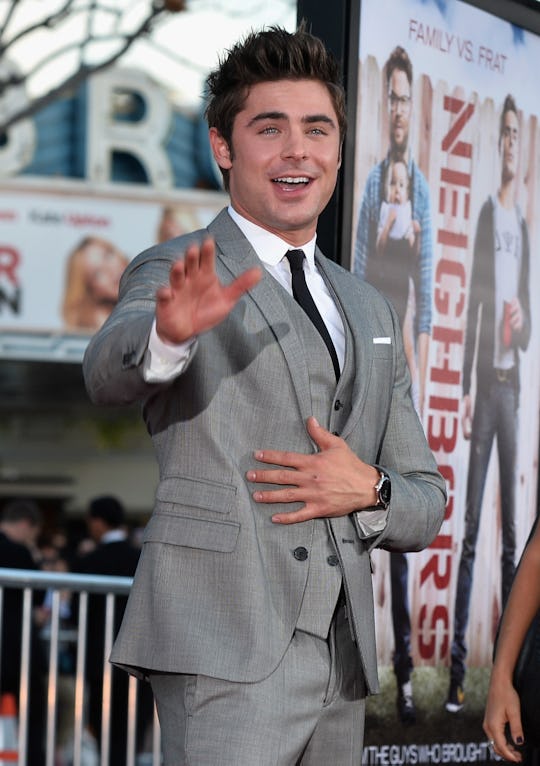 Kevin Winter/Getty Images Entertainment/Getty Images
Is Zac Efron Returning For High School Musical 4? Fans Hope He'll Don The Bowl Cut One More Time
The High School Musical franchise set an entire generation onto two things: wishing their lives broke out in spontaneous song and dance, and forever fantasizing about relationships with actor Zac Efron. Along with fellow Disney star Vanessa Hudgens, Efron's career took off after the three High School Musical films' success, and fans would likely have a hard time picturing HSM without Efron playing basketball star and musical champ Troy Bolton — so is Zac Efron returning for High School Musical 4?
Reps for Efron and Disney haven't weighed in on Efron's possible appearance, but Disney did reveal that the fourth installment of HSM will feature a whole new cast of main characters — i.e., Troy Bolton and Gabriella Montez will no longer be the movie's shining stars., according to Variety. Also, considering that the show will still be a high school musical, it would admittedly be a little odd if 28-year-old Zac Efron were pacing the halls of East or West High.
However, just because Efron's outgrown a leading role doesn't mean he couldn't make a cameo as an older version of the East High Wildcat. Back in 2014, Efron even told Entertainment Weekly, "We're all thinking about it. I continue to see all the guys from High School. Every time we do… there's just this look between us."
At the same time, however, Efron's 2014 was slightly less busy than his current year has been. In 2016 alone, Efron has four movies coming out, and he's currently in the midst of filming Baywatch, which has a 2017 release date. (On a highly unrelated but very important side note: yes, Zac Efron's Instagram pictures have all been Baywatch-related lately, and yes, you do want to go see them right now.) Efron's busy schedule already interfered with his ability to attend the High School Musical reunion earlier this year, according to Billboard, because he was busy promoting his film Dirty Grandpa. I wouldn't be entirely surprised if his current filming and movie releases kept him from revisiting the High School Musical set.
Many fans, however, think that there's no excuse big enough to keep Efron from a High School Musical sequel, and have voiced their displeasure about this whole "new cast" thing:
But take heart, Efron fans. He may not be the star of High School Musical 4, but he's going to be in Baywatch. He might even do that and surprise fans with an appearance in the fourth HSM installment. That doesn't sound all that bad, does it?