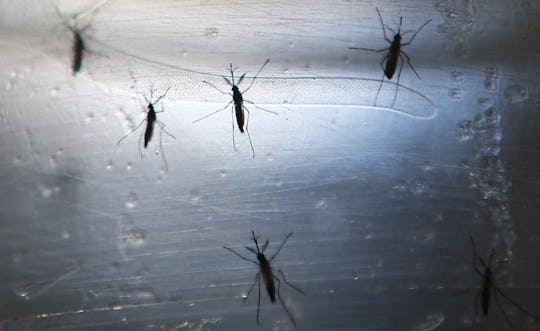 Mario Tama/Getty Images News/Getty Images
Is Zika In Costa Rica? Mosquitoes In The Area Are Transmitting The Disease
A North Dakota man tested positive for Zika virus this week after traveling to Costa Rica. Is Zika is Costa Rica, the popular summer travel destination? The Centers for Disease Control is reporting mosquitoes are infected and transmitting the virus to people in Costa Rica, but not in all areas of the country.
According to the Bismark Tribune, the North Dakota Department of Health reported a man who recently traveled to Costa Rica has tested positive for Zika, although he was not hospitalized. The Centers for Disease control confirms what his diagnosis independently confirms: Zika is in Costa Rica and spreading.
The Centers For Disease Control confirms the presence and transmission of Zika in Costa Rica, reporting, "Local mosquito transmission of Zika virus infection (Zika) has been reported in Costa Rica," the CDC said. "Local mosquito transmission means that mosquitoes in the area are infected with Zika virus and spreading it to people."
Zika, while not a particularly dangerous disease to adults, has been linked to a catastrophic birth defect, microcephaly, in babies exposed to Zika virus in utero. The first baby was born in Costa Rica with microcephaly in May of this year, according to Reuters, although the woman entered the country from El Salvador where she was likely infected.
The CDC recommends that people, especially pregnant women or women who might become pregnant, take precautions to protect themselves from mosquito bites that could infect them with Zika. But not all areas of Costa Rica are equally dangerous.
The Aedes mosquito, which spreads Zika, isn't able to survive in elevations above 6,500 feet, or 2,000 meters, meaning the more mountainous regions of Costa Rica are free from Zika-spreading insects. But, the CDC also warns that, in lower elevations, there is still a risk of contracting Zika. It's also important to remember that Zika can be spread through sexual transmission regardless of the elevation or environment, according to the CDC: "Travelers are still at risk of sexual transmission from a male partner who has been in areas with local transmission."
According to the International Association for Medical Assistance to Travelers, the following local areas within Costa Rica are currently experiencing a Zika outbreak: Nicoya, Carrillio, Alajuelita, Garabito, Parrita, and Puntarenas.
Symptoms of Zika include rash, low-grade fever, achy muscles and joints, and sometimes red eyes and last anywhere from several days to about a week, according to the Costarican News.
If you travel to a Zika zone, the CDC recommends using insect repellent, wearing long sleeves and pants to prevent mosquito bites, and using bug nets for sleeping. Pregnant women are advised to use a condom every time they have sex with a partner who has traveled to a Zika zone or they suspect may have contracted Zika.