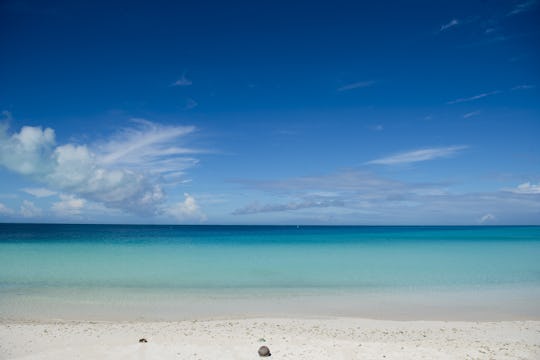 SAUL LOEB/AFP/Getty Images
Is Zika In Jamaica? It's One Of Many Caribbean Islands Affected By The Virus
The Centers for Disease Control and Prevention (CDC) is doing a great job keeping the world informed and vigilant about the continuing spread of Zika virus. Last month the CDC added more countries, including the Cayman Islands, Antigua and Barbuda, and the Turks and Caicos Islands, to its travel advisory list. All three of these countries are part of the Caribbean, one of the regions most widely affected by Zika. A large portion of the Caribbean's economy depends on the mass of tourists that descend upon the collection of islands every year. The travel advisories are unfortunate for those who live in the region and depend on tourism as a way of life, as well as travelers wishing to visit the beautiful islands. Jamaica is one of the most popular Caribbean destinations, with its expanse of beautiful rainforests and majestic beaches in Montego Bay. So while Zika is unfortunately in Jamaica, it is still possible to travel there safely.
The CDC has indeed issued a Level 2 travel advisory for Jamaica, but it's not as grim as it sounds. A Level 2 travel advisory encourages those visiting afflicted areas to practice advanced precautions. This is the moderate warning level, with Level 3 encouraging people to avoid non-essential travel and Level 1 advising the practice of usual precautions. The CDC has compiled a comprehensive list on what exact precautions travelers should take when traveling to a Level 2 infected country such as Jamaica.
For many people, contracting Zika can be relatively harmless. The virus sometimes does not even manifest through physical symptoms. If it does, however, the symptoms are usually mild. Despite this, it's still important to take heed of the travel advisories. A person traveling to Jamaica, or a similarly affected country, could contract the virus without knowing and spread it through sexual contact upon returning home.
Those who are pregnant or planning on becoming pregnant she proceed with extra caution. While Zika may not physically manifest in those who contract the virus, it has severe effects on babies in all stages of utero. A Level 2 travel advisory does not say to cancel all non-essential travel, but it's important to take note that the potential of contracting the virus is still possible even when precautions are taken.
Chrissy Rutherford, the senior fashion editor at Harper's Bazaar, contracted Zika after traveling to Jamaica this summer. She wrote about her experience with the disease, saying that while on vacation she "knew that there were some confirmed cases of Zika in Jamaica, but wasn't really concerned about making sure I had bug spray on at all times."
Rutherford highlights the importance of staying vigilant while traveling to countries affected by Zika. The virus is in popular vacation destinations like Jamaica. If you're planning on taking a trip to this beautiful island make sure you're prepared.
It's definitely possible to travel safely to Jamaica, however, there is always the potential to contract the virus. The decision of whether or not to visit a country with a Level 2 travel advisory is completely up to personal discretion. If you do go, though, make sure you pack Environmental Protection Agency (EPA) registered bug sprays. They recommend travelers use ones containing DEET, picaridin, and oil of lemon eucalyptus — and, of course, enjoy your vacation.