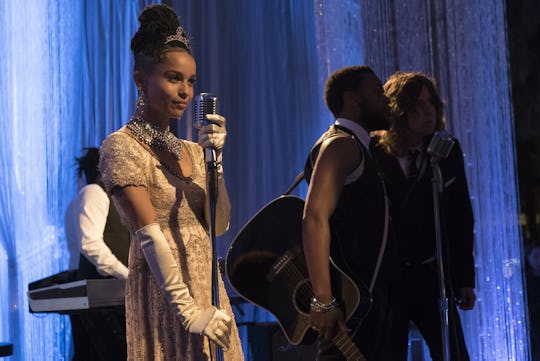 Hilary Bronwyn Gayle/HBO
Zoe Kravitz Took To The Stage On 'Big Little Lies'
Warning: spoilers from the finale ahead! In the finale of Big Little Lies, the much-hyped Trivia Night finally came to pass. Trivia Night has been hanging over the series from the very beginning, because that was the night when everyone knew one character was going to end up dead. Audiences have been waiting to find out just who was killed that night, but before things got murderous, there was plenty of drama and glamour to enjoy. Bonnie even took to the stage to perform a song while dressed in a perfect My Fair Lady ensemble to compliment the night's "Audrey and Elvis" theme. But is Zoe Kravitz really singing on Big Little Lies?
Kravitz is no stranger to music and not just because her dad Lenny Kravitz is a rock 'n roll icon. That was her singing in the Big Little Lies finale, and if you liked her version of "Don't" then you can find it on the series' soundtrack. It was a cover of an Elvis Presley song from the late '50s, making it perfectly on theme for the Trivia Night festivities.
Like her father before her, Kravitz is both a singer and an actor with plenty of musical experience of her own. She's been working on music since she was a teenager and has fronted a few different bands, but currently performs with her band Lolawolf, which is named after her younger siblings Lola and Nakoa-Wolf.
In 2013 when Lolawolf made their debut, Kravitz told Interview magazine that she wasn't looking to pursue music as her main career. "I like to make music because it's fun to do and it makes me feel good, but I have no desire to be a huge pop singer or anything like that," Kravitz said. "I just like to make it."
Lolawolf was originally started by Kravitz and her close friends Jimmy Giannopoulos, James Levy, and Raviv Ullman (who were all in the band Reputante together), though currently Kravitz and Giannopoulos appear to be the only members. When they started making music together, it was spontaneous and fun, something they did at night after Kravitz spent the day filming.
"We weren't making it to release it or have people hear it, so it's as honest as it will get and just playful and funny," she told Interview. "It was really late nights and being like, 'I don't know what this is, but let's just go for it and be as poppy and cheesy as we want to be.' Just making ourselves laugh."
Just last year Lolawolf released the song "Teardrop" with Miley Cyrus, and their music can be found on Soundcloud and iTunes. It seems like Kravitz's acting career is still her first priority, but music is a big part of her life, too.