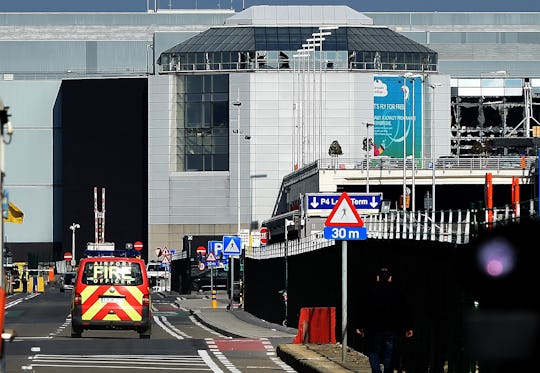 PATRIK STOLLARZ/AFP/Getty Images
ISIS Claims Responsibility For Brussels Attack — REPORT
Just hours after three bombs exploded in Zaventem airport and the Maelbeek metro station, ISIS claimed responsibility for the Brussels attacks. According to The New York Times, the news agency of the Islamic State issued a statement via the group's official Telegram channel, and the news quickly spread through other ISIS channels and on Twitter.
Update: On Wednesday morning, The New York Times reported that brothers Khalid el-Bakraoui and Ibrahim el-Bakraoui helped carry out the attacks. The Times reported that at least one of them died in the attacks on Tuesday. Police were still seeking a third suspect, Najim Laachraoui, on Wednesday, whom they say had ties to the Paris attacks.
Islamic State fighters carried out a series of bombings with explosive belts and devices on Tuesday, targeting an airport and a central metro station in the center of the Belgian capital Brussels, a country participating in the coalition against the Islamic State. Islamic State fighters opened fire inside the Zaventem airport, before several of them detonated their explosive belts, as a martyrdom bomber detonated his explosive belt in the Maalbeek metro station.
Shortly after the first explosion in Zaventem airport, Islamic State supporters created the Twitter hashtag "Brussels is on fire," according to The Jerusalem Post — which was apparently inspired by a similar hashtag created after the November 13 Paris attacks, "Paris is on fire."
Shortly after the attacks, Belgian Prime Minister Charles Michel told reporters he — and, presumably, his country — feared a possible strike:
We were fearing terrorist attacks, and that has now happened.
But fear is one thing. Seeing it, and living it, is another.
The attack began just after 8 a.m local time, when two bombs ripped through Zaventem airport. (It has since been reported a third, unexploded device — a suicide vest — was also found at the airport though, according to BBC News, a controlled detonation of a "suspect package" was performed Tuesday afternoon.) Less than an hour later, a third explosion rocked the middle car of a three-car subway train at the Maelbeek metro station.
The trains driver immediately evacuated the first and last carriages, according to BBC News.
The attacks in Brussels have claimed 34 lives and injured more than 170 people, according to CNN. However, Belgian federal Prosecutor Frederic Van Leeuw believes the death toll may rise, as it is far too soon to know exactly how many people died in the bombings.
This story is developing...