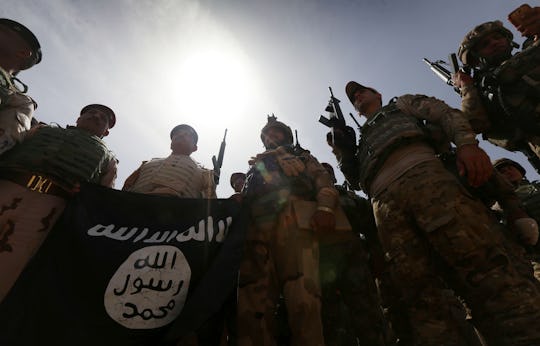 SAFIN HAMED/AFP/Getty Images
ISIS Claims Responsibility For Orlando LGBT Nightclub Attack
Less than 24 hours after a deadly mass shooting at an LGBT club in Florida claimed the lives of at least 50 people, injuring dozens more, the ISIS militants claimed responsibility for the Orlando attack, according to Amaq News, a media group with close ties to the Islamic State, according to RT. The Orlando incident occurred in the early hours of Sunday morning at Pulse, an LGBT nightclub that was hosting Latin Night at the time, and culminated in an hours-long stand-off with police. Early reports suggested that the shooter, U.S. citizen Omar Mateen from St. Lucie County, had been a radical sympathizer, although officials could not immediately confirm that news to the public.
(Update: The FBI has updated the death toll to 49 victims. The shooter was also killed.)
"There are several FBI agents in St. Lucie County now," Democratic Sen. Bill Nelson said in a news conference on Sunday afternoon, asking locals to send tips if they had any information.
Mir Seddique, Mateen's father and an Afghan immigrant, told NBC News initially that he and his family were just as shocked as the community to learn of the shooting, noting that his son had recently expressed disgust at seeing two men kissing in Miami. "We are saying we are apologizing for the whole incident," Seddique said. "We weren't aware of any action he is taking. We are in shock like the whole country. This had nothing to do with religion."
However, President Obama was much more frank in a news conference Sunday afternoon, calling the Orlando incident an "act of terror and an act of hate."
"We stand with the people of Orlando who have endured a terrible attack on their city," he said. "This could have been any one of our cities." The president then shifted his focus to the firearm accessibility, remarking on the fact that the gunman had been able to obtain two firearms legally and with very little background check, due to his status as a security guard. "We've got work to do when LGBT people around the world still face incredible isolation and poverty and persecution and violence, and even death," Obama said. "We have work to make sure that every single child, no matter who they are or where they come from or what they look like or how they live, feels welcomed and valued and loved."
The president concluded his statement by referring to the incident as "a sobering reminder that attacks on any American, regardless of race, ethnicity, religion or sexual orientation is an attack on all of us and on the fundamental values of equality and dignity that define us as a country."
In a comment to reporters earlier in the day, FBI Assistant Special Agent in Charge Ronald Hopper suggested that the agency was looking into the ISIS claims.
"We do have suggestions that that individual may have leanings toward that particular ideology but we can't say definitively," Hopper said. "Early on, when we had possible identification made, we run everything to ground, whether it winds up being the actual individual or not. And so, as I mentioned earlier, I can't say exactly who the suspect or deceased shooter is. Once we're able to do that, once the notification is made, then more details will be able to be shared, most likely from our counterterrorism division up at FBI headquarters."
The FBI also reported that Mateen may have reportedly pledged allegiance to the Islamic State earlier in the day, but made note that the investigation was ongoing.
For the moment, ISIS' claims of responsibility have not been officially confirmed or traced back through the appropriate channels, but the likelihood of the Orlando shooter working off of radicalized prompts or ideology is not so far-fetched.