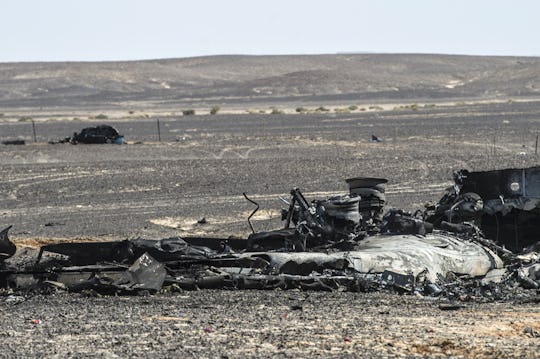 KHALED DESOUKI/Getty Images
ISIS Posts Photo Of Bomb It Claims Brought Down Russian Metrojet A321
According to Reuters, on Wednesday morning, ISIS shared a photo of an improvised bomb it claims was responsible for bringing down Russian Metrojet A321 in October. The crash last month — which claimed the lives of 224, including at least 25 children — was downed over Egypt's Sinai Peninsula. The Islamic State officially claimed responsibility for the disaster on Oct. 31, though investigators first believed it to be the result of a mechanical failure.
Reuters reports that the photos released this morning were by the Islamic State's magazine, Dabiq, and clearly show the parts of a crudely made explosive — a can of Schweppes Gold soda, and what appears to be a detonator and a switch. Along with the photo of the makeshift bomb parts, ISIS published a photo of passports, claiming they belonged to dead Russians.
Though ISIS claimed responsibility for the bomb last month, and President Obama publicly stated that U.S. Intelligence strongly indicated the Russian airliner was downed by a bomb, it actually wasn't until yesterday that the Russian government officially acknowledged that a bomb had indeed caused the crash.
As the Daily Mail reports, it's not yet known whether the items pictured are the exact ones that were used to create the bomb planted in the Russian airliner, or merely similar items. But the publication was clear about one thing: Along with the photo, it was stated that the bombing was in direct response to Russia's "rash decision of arrogance" to partake in airstrikes against rebels currently fighting Bashar al-Assad, the President of Syria.
The magazine continues:
And so, after having discovered a way to compromise the security at the Sharm el-Sheikh International Airport and resolving to bring down a plane belonging to a nation in the American-led Western coalition against the Islamic State, the target was changed to a Russian plane.
A bomb was smuggled onto the airplane leading to the deaths of 219 Russians and 5 other crusaders only a month after Russia's thoughtless decision.
Speaking about the crash Tuesday, Russian President Vladimir Putin vowed to "hunt down" those who are responsible for the October crash "wherever they are hiding."
Image: KHALED DESOUKI/Getty Images