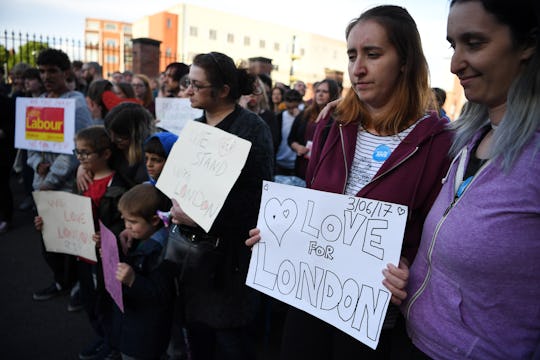 Jeff J Mitchell/Getty Images News/Getty Images
ISIS Tries To Claim Responsibility For London Attack
On Sunday evening, new information emerged regarding the attack that occurred on London Bridge on Saturday night, in which seven people were killed and 48 were injured. According to CNN, ISIS tried to claim responsibility for the London attacks, during which at least three attackers were killed and an additional 12 individuals were later arrested in connection. So far, despite ISIS' claim, terrorism experts have not been entirely convinced that the terrorist group was behind the incident.
According to the SITE Intelligence Group, the ISIS-linked Amaq News Agency claimed on Saturday that ISIS fighters had carried out the attack in London. However, CNN's terrorism analyst Paul Cruickshank warned viewers not to take the claim too seriously, since neither ISIS nor Amaq had provided evidence to back up that claim.
A far more likely scenario, according to experts, is that the London Bridge attackers were independent from ISIS, but inspired by the group. According to ABC News, an ISIS message posted online on Saturday may have been what inspired the attackers to strike over the weekend, as it called on followers to carry out violence on "the civilians of the crusaders" during Ramadan, according to ABC.
Matt Olsen, the former director of the National Counterterrorism Center, told ABC News:
They usually use these messages to simply inspire people to carry out attacks whenever the opportunity arises. So, really, the real goal is to motivate as many people as possible in the hopes that somebody will carry out an attack just like this.
According to The Independent, Amaq's use of quoted, unnamed "sources" in their article is a sign that the London Bridge attack was likely inspired by ISIS, rather than directly carried out by the group. On Sunday, after talking to her security advisers, British Prime Minister Theresa May also said that the three recent attacks in London and Manchester were not actually connected by common networks, but were all based in extremism.
"We can't allow this ideology space to breed," May said on Sunday, according to The Wall Street Journal. "Yet that is precisely what the Internet and the big companies that provide Internet-based services provide." She continued on to urge better monitoring of internet spaces that inspire attackers, saying:
We need to work with allied democratic governments to reach international agreements that regulate cyberspace to prevent the spread of extremist and terrorism planning.
Police arrested 12 people in London on Sunday in connection with the attack. Some 36 people remain in the hospital, with 21 in critical condition, according to CNN. As the investigation continues to unfold in London, police will likely be revealing more details about Saturday's attack and the events that led up to it — but in the meantime, take ISIS' claims with a grain (or 10) of salt.