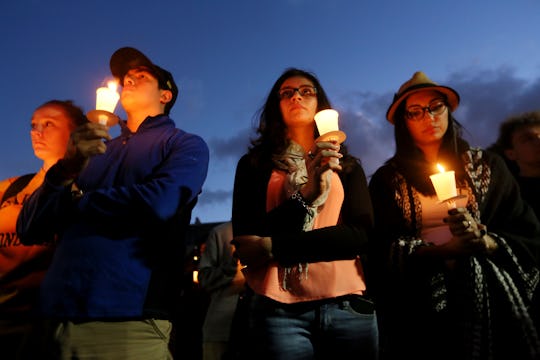 Sandy Huffaker/Getty Images
Isobel Bowdery's Powerful Survival Story During The Paris Attacks Strikes An Emotional Chord Across The Internet
As the hours and days begin to pass since the attacks on Paris Friday, the emotional firsthand accounts continue to stream is — and each one is almost more harrowing than the next. There is still a suspect on the run; there is still an investigation underway. But amidst it all, those in Paris who suffered through the attacks — who saw friends being shot, fellow Parisens being hit with shrapnel from suicide bombers, and unspeakable acts committed before their eyes — Friday's attacks are far from over. And as a viral Facebook post from Paris attack survivor Isobel Bowdery shows, they will be replaying in the minds of thousands for some time.
According to the International Business Times, Bowdery is a 22-year-old Cape Town graduate, who walked into the concert at the Bataclan Friday a completely different woman than the one who later walked out. Donning a white sleeveless top that would later be covered with blood stains, Bowdery describes being "happy"as the concert began. She was surrounded by fellow concert-goers who at first "naively" believed that it was all part of the show when three attackers burst through the doors and began firing. Of course, it wasn't long before they all realized otherwise. In Bowdery's account, she details watching as others near her were shot dead, and how playing dead, and hiding under bodies, was what ultimately saved her life.
In her post, Bowdery opens with the line, "You never think it will happen to you," and she is absolutely right. Her moving photo story, posted to Facebook, deserves to be read in full:
You never think it will happen to you. It was just a Friday night at a rock show. The atmosphere was so happy and everyone was dancing and smiling. And then when the men came through the front entrance and began the shooting, we naively believed it was all part of the show. It wasn't just a terrorist attack, it was a massacre. Dozens of people were shot right in front of me. Pools of blood filled the floor. Cries of grown men who held their girlfriends dead bodies pierced the small music venue. Futures demolished, families heartbroken. in an instant. Shocked and alone, I pretended to be dead for over an hour, lying among people who could see their loved ones motionless. Holding my breath, trying to not move, not cry — not giving those men the fear they longed to see. I was incredibly lucky to survive. But so many didn't. The people who had been there for the exact same reasons as I — to have a fun Friday night were innocent. This world is cruel. And acts like this are suppose to highlight the depravity of humans and the images of those men circuling us like vultures will haunt me for the rest of my life. The way they meticoulsy aimed at shot people around the standing area i was in the centre of without any consideration for human life. It didn't feel real. I expected any moment for someone to say it was just a nightmare. But being a survivor of this horror lets me able to shed light on the heroes. To the man who reassured me and put his life on line to try and cover my brain whilst i whimpered, to the couple whose last words of love kept me believing the good in the world, to the police who succeeded in rescuing hundreds of people, to the complete strangers who picked me up from the road and consoled me during the 45 minutes I truly believed the boy I loved was dead, to the injured man who i had mistaken for him and then on my recognition that he was not Amaury, held me and told me everything was going to be fine despite being all alone and scared himself, to the woman who opened her doors to the survivors, to the friend who offered me shelter and went out to buy new clothes so i wouldn't have to wear this blood stained top, to all of you who have sent caring messages of support - you make me believe this world has the potential to be better. to never let this happen again. but most of this is to the 80 people who were murdered inside that venue, who weren't as lucky, who didn't get to wake up today and to all the pain that their friends and families are going through. I am so sorry. There's nothing that will fix the pain. I feel priviledged to be there for their last breaths. And truly beliving that I would join them, I promise that their last thoughts were not on the animals who caused all this. It was thinking of the people they loved. As i lay down in the blood of strangers and waiting for my bullet to end my mere 22 years, I envisioned every face that I have ever loved and whispered I love you. over and over again. reflecting on the highlights of my life. Wishing that those I love knew just how much, wishing that they knew that no matter what happened to me, to keep believing in the good in people. To not let those men win. Last night, the lives of many were forever changed and it is up to us to be better people. To live lives that the innocent victims of this tragedy dreamt about but sadly will now never be able to fulfill. RIP angels. You will never be forgotten.
If you're left nearly speechless after reading Isobel's story, you're not alone. Her emotional post has touched everyone who's read it, gaining over two million likes, and being shared over 709,000 times. Thousands more took a moment to leave caring words of support for Isobel by commenting on the post. "Sending love to anyone and everyone affected by this," wrote one user, Romy P. "I cant imagine what you've gone through, thank you for sharing you story. You are truly inspirational x praying for Paris as well as humanity. #prayforhumanity RIP to those beautiful souls that have left us."
As Isobel's story — and so many other heart-wrenching accounts from the day — continue to make their way around the Internet, it's nearly impossible to read them and wander down a rabbit hole of emotions. But it's important to keep in mind the sentiment of Isobel's words themselves — that despite the gruesome details of what happened in Paris, we should never stop believing in good people, not get so lost in the grief that it turns to hate, never forget the lives that were lost, and perhaps most of all, never ever let the attackers win.
Image: Sandy Huffaker/Getty Images