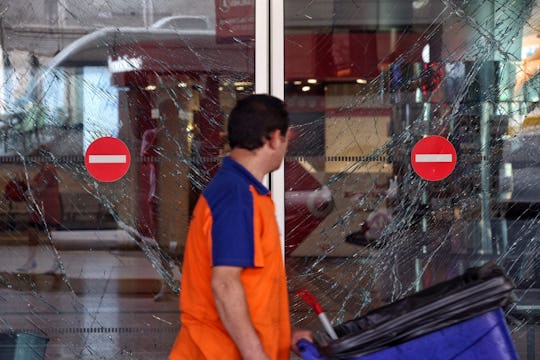 Defne Karadeniz/Getty Images News/Getty Images
Istanbul Updates On Day 2 Reveal More Victims Than Initially Reported
The number of confirmed victims in Tuesday's Ataturk airport attack continue to rise. The latest Istanbul updates reveal that 41 victims from nine countries have died, and another 239 were injured, according to the Guardian. 109 of the victims have already been released from the hospital. Among those killed are five people from Saudi Arabia, two from Iraq, and one each from Tunisia, Uzbekistan, China, Iran, Ukraine, and Jordan. The rest are thought to be Turkish. Prime Minister Binali Yildirim has said that that ISIS is to blame for the attack, but the group has yet to claim responsibility.
Three suicide bombers opened fire with automatic rifles near the entrance of the airport's international terminal late on Tuesday, according to the BBC, before detonating themselves when confronted by police. Two of them were able to enter the building. The attackers are said to have arrived at Ataturk, Europe's third-busiest airport, by taxi. The airport has since been reopened, but many countries have issued travel warnings cautioning their citizens to reconsider traveling to Turkey. The United Kingdom's Foreign Office warns that "the threat from terrorism remains high." Australia's Department of Foreign Affairs and Trade has stated that "[t]errorists maintain an interest in attacking tourist destinations in Turkey," and the U.S. State Department cautioned that "foreign and U.S. tourists have been explicitly targeted by international and indigenous terrorist organizations."
This is Istanbul's third suicide attack of the year to be attributed to ISIS. The Guardian reported that "an ISIS-linked Syrian man" attacked the historic district of Istanbul in January, blowing up himself and 12 German tourists. A domestic suicide bomber, also linked to ISIS, blew up himself and four victims on a pedestrian street in Istanbul in March. Neither of those attacks was formally claimed by ISIS, but, according to the BBC, ISIS rarely claims responsibility for attacks in Turkey, other than those against Syrian activists. The outlet reported that Turkey has been targeted by ISIS for "being un-Islamic and too close to its Western allies."
CNN reported that U.S. intelligence officials agree that ISIS is likely responsible, based on both the target and the method of the attack. A source with the Turkish government told CNN that there's a "strong suggestion" that the attackers were foreign. Soner Cagaptay of the Turkish Research Program at the Washington Institute wrote that if ISIS is to blame, "Turkey's vengeance will come down like rain from hell."