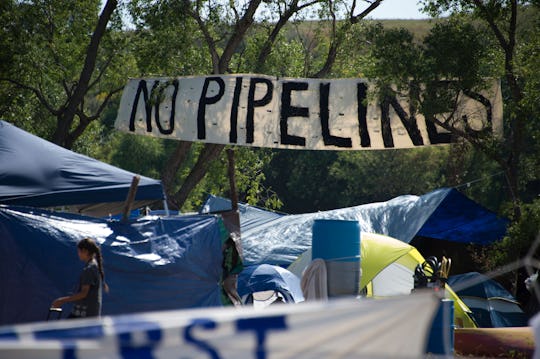 ROBYN BECK/AFP/Getty Images
Items The Standing Rock Protesters Need, Because Facebook Check-Ins Aren't Enough
Though many people sympathize with the Water Protectors currently fighting against the Dakota Access Pipeline, figuring out how to help can be confusing. While hashtags are a quick and easy way to show your support, they don't make much of a difference to the people currently camped out in Standing Rock. The items Standing Rock protesters need include food, shelter, heaters to keep them warm, medical supplies, and other basic survival necessities. If you're able to make a financial contribution, or perhaps convince a well-off friend or family member to do so in lieu of sending you a holiday gift this year, it can make a real difference, right now.
It's currently snowing and well below freezing at Standing Rock, and conditions will only get worse. According to the Camp of the Sacred Stones website, they've received plenty of clothing donations, but there's a lot more they can still use. If you're local, they're looking for donations of firewood (preferably oak, maple, or ash), snow tires and chains, trailers, campers, and a pickup truck. They also need tents, tipis with winter liners, subzero sleeping bags. They have little solar and wind power, so propane heaters, gas generators, solar panels, and power inverters are also needed. Mobile phone service is spotty, so they're also asking for walkie-talkies and CB radios.
If you're not in the area, you can send a check to Sacred Stone Camp, P.O. Box 1011, Fort Yates, ND, 58538. If you're sending supplies and need a physical address, you can send them to Sacred Stone Camp, 202 Main Street, Fort Yates, ND, 58538. A full list of supplies needed is on the camp's website. You can also purchase items online via Sacred Stone Camp Amazon Wishlist, from $25 gas cards all the way up to an $11,199 snowmobile. The Standing Rock Medic & Healer Council has also set up an Amazon Wishlist asking for lower priced but just as necessary items, such as canned goods, medical gauze, toilet paper, and tragically, military-grade ballistic goggles, which they need "to protect from tear gas and flash grenades, mace, etc."
Of course, not everyone has the means to donate, but there are free ways to help the effort. No, checking in at Standing Rock on Facebook will not do anything, but if you're looking for another way to help via social media, you can follow Sacred Stone Camp on Twitter and retweet them as a means of getting the word out about their plight. Get to know the facts and be prepared to speak up at social gatherings. If you have legal or media skills to offer, you can contact the Water Protectors at sacredstonecamp@gmail.com or 701-301-2238. Lastly, if your bank is one of the 17 that are funding the Dakota Access Pipeline, consider closing your account, and telling the bank why. No funding means no pipeline.