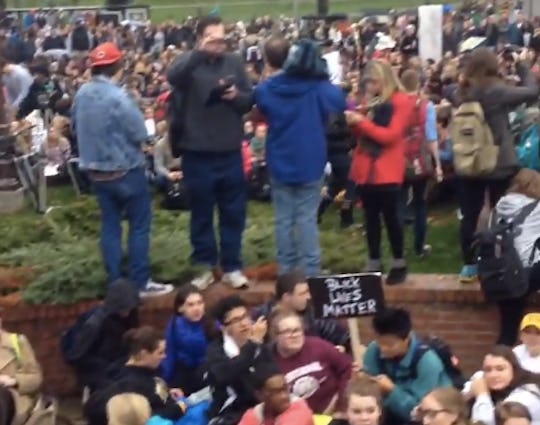 Ithaca College Students Protest In The Wake Of Mizzou, & More Campuses Have Protests Planned
It seems recent staffing upheavals at the University of Missouri have inspired students at an upstate New York college to take action at their own school. Students at Ithaca College staged a walkout on Wednesday to demand the resignation of President Tom Rochon. Chanting "no confidence" and "new president, now," students filled the quad where they marched, listened to speeches, and lay on the ground in silent protest. The students claim Rochon, much like Tim Wolfe, the former president of the University of Missouri who resigned Monday, has not responded appropriately to incidents of racism on campus. Protest organizers explained:
With University of Missouri's president stepping down, we demand Rochon to do the same as it is vital to fight against both covert and overt racism in all places of education and empowerment.
Ithaca has recently been rocked by several racially charged episodes, including a "Preps" and "Crooks"-themed frat party. ("Preps" were to wear polo shirts, khakis and boat shoes while "Crooks" were to be dressed in baggy sweats, and sporting "bling.") While the party was canceled after a flood of complaints, it was not the only cause for concern: in September, a group of students protested the racial profiling and harassment they claimed they endured at the hands of campus police officers during a training session for resident assistants. Students were not only upset by these incidents, they were enraged by how the college responded to them. Notably, in the wake of an incident where a female alumna was referred to as a "savage," Rochon said in a message to students, "In general, the college cannot prevent the use of hurtful language on campus."
Unfortunately, these incidents do not appear to be unique to Ithaca College or the University of Missouri, and students across the country are responding to racism on their campuses. According to NBC News, similar rallies and marches are planned for St. John's University, Syracuse University and University of Wisconsin-Milwaukee later this week, and on Wednesday the the hashtag #blackoncampus popped up on Twitter. (By Thursday morning it was trending, after garnering with tens of thousands of tweets.)
These tweets are just a couple of thousands, literally thousands, of testimonies of race-related hate, discrimination, and oppression. So while Ithaca College is the latest campus facing student activism around the issue, I doubt it will be the last.
Image: WICB News Team/Twitter