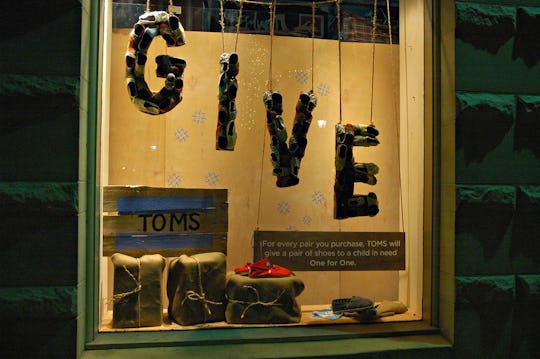 It's #GivingTuesday, & These 5 Organizations For Women & Children Could Use Your Help
I don't know about you, but after back-to-back shopping binges on Black Friday and Cyber Monday, I could use a detox. It would be great to kick off the holiday season with a few acts of kindness, a reminder of all we already have to give, amirite? Fortunately, today is #GivingTuesday, the perfect occasion for showering gifts on the philanthropic organizations and causes working to make the world a better place. And the good news for all would-be donors is that there's no shortage of worthy and worthwhile organizations to support on #GivingTuesday.
Despite the age-old focus on charitable giving and community service during the holidays, #GivingTuesday is a relatively new thing. The hashtag and campaign were created in 2012 by the 92nd Street Y, a cultural and community center based in New York City. Since then, the hashtag has grown to a social media phenomenon spanning 70 countries. Today, at least 35,000 nonprofits, government agencies, faith organizations, and businesses have signed on as #GivingTuesday partners worldwide, according to the official website. NBC News reported that in 2014, #GivingTuesday campaigns brought in at least $46 million in donations.
Whether you want to give your money or time to support issues you see in your own neighborhood, or if you want to help on something happening half a world away, thanks to the Internet, giving is easier than ever. If you need a few ideas to get started, here are some awesome organizations focused on helping women and children on a variety of issues worldwide.
Interested In Health And Hunger Issues? You Might Try Save The Children
Save The Children works in 120 countries, including the United States, supporting healthcare, nutrition, and education for children in extreme conditions. On #GivingTuesday, donations made through the Save The Children website will have a double impact, as an anonymous foundation has offered to match gifts up to $100,000. Donations can be made using a credit card or PayPal account by clicking here.
If You Want To Help Women Start Small Businesses, Look Into Kiva
Did you know that making a small loan to an entrepreneur — and when I say "small," think $25 — can help bring an entire family out of poverty? And enough thriving small businesses can actually help jumpstart economic recovery in war-torn countries? That's the mission behind Kiva, a nonprofit organization dedicated to lifting people out of poverty through microlending. And with an average repayment rate of over 98 percent, according to the organization's website, a single gift can be recycled many times over. You can donate to Kiva's end-of-year campaign here.
If You Want To Keep Children Out Of Orphanages, Look At The Lumos Foundation
Founded by the original Potterhead, J.K. Rowling, the Lumos Foundation is focused on connecting the 8 million children living in orphanages worldwide . This year, the organization is asking for help raising $30,000 for a special education project in Moldova. GivingTuesday donations will help purchase special equipment so that children with disabilities don't need to separate from their families in order to attend school. You can give to the campaign via IndieGogo by clicking the "contribute now" button. Donors can receive a signed Hogwarts Map, a full Harry Potter costume kit, or even a first edition copy of The Tales of Beedle The Bard signed by Rowling.
Want Better Education Options For Kids Of Color? You Might Like A Better Chance
A Better Chance recruits educationally talented kids of color from across the country and helps place them in some of the most academically rigorous and prestigious educational settings possible. Students come from a variety of communities, and often have few quality public education options available to them. For the past 50 years, A Better Chance has identified excellent junior high and high school students (including me!) and helped them to thrive in independent day schools, boarding schools, and high-quality public schools. To support their drive to raise $10,000 in scholarship funds by the end of 2016, visit the A Better Chance website.
If You're Focused On Women's Health, Consider Planned Parenthood
Of course, the tragic shooting Friday at the Colorado Springs Planned Parenthood has galvanized supporters to rally around the organization with public and monetary support. The day after the shooting, Chrissy Tiegen tweeted, "Every time shit like this happens, John [Legend] and I immediately make another donation to Planned Parenthood." Tiegen then took it a step further and tweeted that she'd made another on behalf of a Twitter troll who was nuts enough to criticize her. And yes, that's probably the classiest, most perfect response to any Twitter troll ever.
You can donate to a local Planned Parent organization — or to the national and global chapters — by visiting www.PlannedParenthood.org/GivingTuesday.
Image: Wonderlane/Flickr