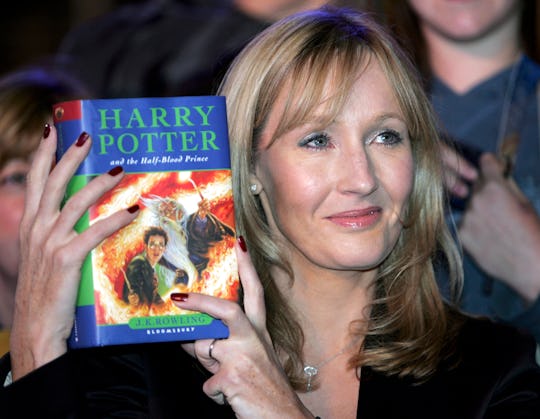 Christopher Furlong/Getty Images Entertainment/Getty Images
You're Not Gonna Believe How Old Harry Potter Is Today
On this day, July 31, 2018, two very special people in the literary world celebrate birthdays: Author JK Rowling and the protagonist of her wildly famous Harry Potter series, Harry Potter himself. Yep, that's right! Today, Rowling celebrates her 53rd birthday. Meanwhile, the beloved "boy who lived" is a couple of decades younger — and yet, he's still age still manages to surprise fans who started reading the series when they were kids themselves. That's because it's Harry Potter's birthday today, but wait until you hear how old he really is.
As Time reported, the first book in the series — Harry Potter and the Philosopher's (Sorcerer's in the U.S.) Stone — was released back in 1997 in the UK and in 1998 in the U.S. Back then, Harry was an 11-year-old boy who had recently discovered he was actually a wizard. Young readers who were also 11 at the time probably assumed Harry was born during the same year they were — in 1986 or 1987. However, as JK Rowling revealed in a blog post a few years back, this is simply not the case. See, Rowling actually started writing the first Harry Potter book while on a crowded train in 1990. So in reality, Harry's story begins roughly a decade prior to this in 1980. (If you don't believe me, then head on over to Pottermore.com and see for yourself; his birthday is listed as "July 31, 1980.") Some simple math pegs Potter turning 38 today. Mind = blown.
And I'm not the only one who wasn't aware of the fact that "the chosen one" is basically a middle-aged man.
Others joked about Harry's disappearing youth, now that he's approaching middle age. One Twitter user wrote, "Just realised it's Harry Potter's 38th birthday today. Perhaps it's time to stop calling him the boy who lived and start calling him the man who approached middle age?"
Another Twitter user wrote, "Harry Potter is 38 years old. Can't wait for the new book 'Harry Potter and the midlife crisis' which deals with his struggles in paying off his student loans." LOL. Now that would be super relatable.
Yet another Twitter user wrote, "Harry Potter is apparently 38 years old today. Which means he is no longer the boy who lived that has to worry about Voldemort - he's the man who needs stronger glasses that has to worry about haemorrhoids.#HappyBirthdayHarryPotter"
Others took to social media to simply give a shout out to Potter on his special day. One person tweeted, "Happy Birthday, Harry Potter! My oldest fictional friend turns 38 today!" along with a GIF of Dumbledore and Snape doing a happy dance while wearing party hats.
Another fan tweeted, "I'm all emotional. Feels like yesterday Harry was 11, on his first train to Hogwarts and now he's 38. Thank you J.K. Rowling for giving us a blessing in Harry Potter."
I'm not gonna lie; I'm still having a difficult digesting the fact that Harry Potter is already creeping up on 40. (Maybe it was because I read the first book when I was 12, so I imagined we were sort of growing up together.) Still, I remember how excited I was to wake up early on the morning of a new book release — and then spend the whole day devouring it. (Because the new books always came out on Harry Potter's birthday, during summer break.) Even as an adult, I always made it a point to see each movie as it came out in theaters. And even though I own a boxed set of Blu-rays, whenever a "Harry Potter Weekend" popped up as I was flipping through channels, I'd have to stop and watch. Because Harry Potter.
As IGeekOut.net pointed out, there are a number of ways Potter fans can celebrate Harry's big day. From movie marathons, to themed parties at local book stores, to actually visiting the Wizarding World of Harry Potter in Orlando, and more, the possibilities are endless on HP's big day. Because even though he isn't technically a real person, this beloved character will forever hold a place in our hearts. Happy birthday, JK Rowling and Harry Potter!