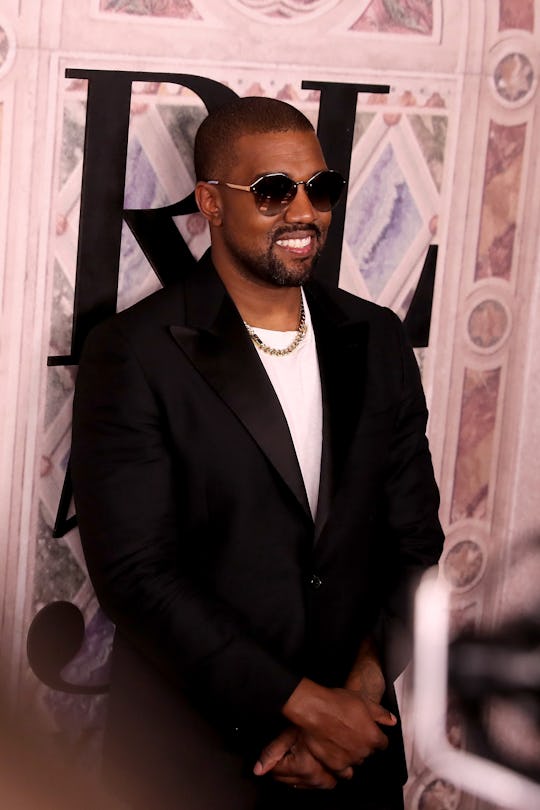 Rob Kim/Getty Images Entertainment/Getty Images
It's Official: Kanye West Has Changed His Name To YE
It's no secret that Kanye West has a tendency to dance to the beat of his own drum. Whether he's curiously rapping "poopity scoop" in the middle of an otherwise typical song, or he's wearing a MAGA hat paired with a Colin Kaepernick sweatshirt, some of his choice just can't be explained. Then again, that's part of what makes Kanye so Kanye, after all. As of today, though, the rapper and Yeezy designer has a new official moniker. That's because it's official: Kanye West has changed his name to YE.
As E! Online reported, West took to Twitter on Saturday, Sept. 29 to declare the name change ahead of his Saturday Night Live performance. to declare the name change. He tweeted, "The being formally known as Kanye West I am YE." For the record, this probably isn't exactly a huge surprise to fans. West has picked up a quite a few nicknames through the years — including Ye, Yeezy, and Yeezus, to name a few. (His last album was titled, YE, as well.) "I believe YE is the most commonly used word in the Bible," he told Real 92.3's Big Boy back in June. "In the Bible it means 'you.' So I'm you, I'm us. It went from being Kanye, which means the only one, to being just YE — just being a reflection of our good, our bad, our confused, everything. I'm just more a reflection of who we are."
So yep. It seems as if West is taking a page out the books of fellow singers — like Diddy, Prince, and Snoop Dogg — who have famously switched up their names. And from the looks of it, Twitter seems to be equal parts supportive and annoyed by the change. One follower wrote, "Bruh, it's 9/29. Drop it."
Another supportive Twitter user commented, "Ye, Yeezus, Goat, all the same."
Another person tweeted, "Wtf??? Does he think he's Prince ? Why not just a symbol."
Yet another Twitter user responded simply with, "Giant eye roll."
Yet another Twitter user said exactly what was on my mind: "Formerly." (As in, "The Artist Formerly Known As Prince," it should be "the being formerly known as Kanye West." Amiright?)
Still for others, a GIF perfectly summed it up when words seemed to fail them altogether.
Twitter reactions aside, I have to wonder what Kim Kardashian thinks about the name change. Like, does he expect everyone to call him YE now, or is that just a stage name switch-up? And while we're at it, what are Kim K's thoughts about the lyrics suggesting that North and Saint don't need last names? (As it is, none of the Kardashian-West kids even have middle names, after all.) As People reported, YE seemed to have hinted at a name change earlier in the week, with a clip of a song from his upcoming album, Yandi. The lyrics read: "I'm givin' up my slave name. I'm givin' up my slave name ... Saint, you don't really need a last name. North, you don't really need a last name."
As Us Weekly reported, YE will perform on the season premiere of SNL tonight — and his album Yandi is expected to be released during this episode. So it'll be interesting to see how, exactly, he is introduced during the show, in light of this recent YE business. Because whether or not he has legally changed his name — or actually has plans of doing that same with his children — it looks like the rapper's name shall be YE until further notice.