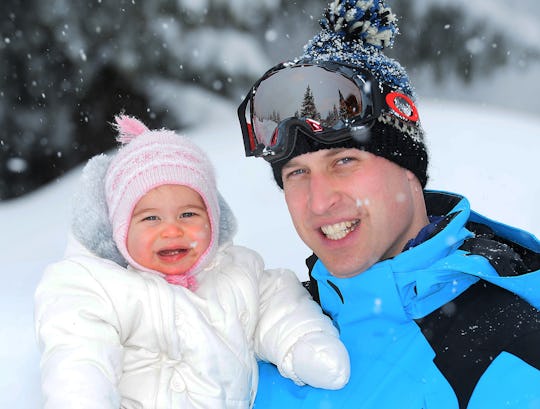 JOHN STILLWELL/AFP/Getty Images
It's Princess Charlotte's 1st Birthday, So Kensington Palace Shared Adorable New Photos
It's a big day for Britain's youngest royal: to celebrate Princess Charlotte's 1st birthday Monday, Kensington Palace released four new photos of the little girl, taken by her mom, the Duchess of Cambridge. According to People, the new photos featured the princess at home at Amner Hall in Norfolk, where previous photos of Charlotte (and big brother Prince George) were also taken. This time around, Charlotte can be seen standing up and playing, dressed in sweet pink and blue dresses, complete with matching bows. She's clearly grown since the last time we've seen her — in one shot, she can even be seen outside, pushing a toy around the garden.
The adorable photos were first released on Kensington Palace's official Twitter account, which seems to be the royal couple's preferred way of sharing their family news. It also where previous photos of the royal children have been shared, as well as other notable updates, like the Duchess' recent Vogue cover, GIFs commemorating the Duke and Duchess' fifth wedding anniversary, or the hilarious video for the upcoming Invictus Games, featuring Prince Harry and his grandmother, Queen Elizabeth II, as well as President Barack Obama, and First Lady Michelle Obama (like, honestly, the highlight of my life).
The newly 1-year-old Princess has had a big year, according to the Telegraph — after her much buzzed about arrival and debut on the steps of the Lindo Wing of St. Mary's Hospital one year ago (with her mother looking insanely amazing after a fast and furious 2-and-one-half hour labor only hours before!), to the sweet photos of the new family of four walking together to the church for her christening, and then the cuter-than-life photo of the infant being held in his lap by Prince George, the world can't seem to get enough of the little girl who is currently fourth in line for the throne.
In addition to sharing a striking resemblance to her big bro, in the most recent set of photos, Princess Charlotte also appears to look an awful lot like her great-grandmother, the Queen. And judging by the recent photos taken by Annie Leibowitz in honor of the Queen's 90th birthday, with little Charlotte sitting sweetly on the Queen's lap, it definitely seems like she is enamored with her youngest great-grandchild.
According to People, Princess Charlotte will celebrating her birthday with a small, private family party, but the rest of the country will surely be celebrating as well (the young princess' birthday happens to fall on May Day, which is a holiday in the UK). Happy first birthday, Princess Charlotte.