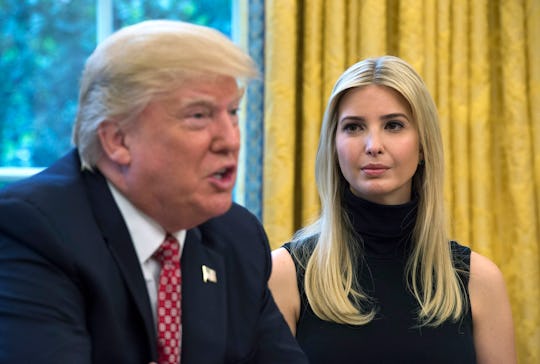 Pool/Getty Images News/Getty Images
Ivanka Trump Somehow Surprised By Political "Viciousness"
During a sit-down with Fox & Friends Monday, President Donald Trump's daughter, Ivanka Trump, told cohost Brian Kilmeade that the fierce opposition to her father's presidency was unexpected. Ivanka claimed that "viciousness" in politics had surprised her but, looking back at her father's campaign, it really shouldn't have come as much of a shock at all. Trump's coarse language and personal attacks worked to set the tone for the 2016 election (and the road ahead) so Ivanka, who also functions as assistant to the president, easily could have seen this coming.
"There's a level of viciousness that I was not expecting," Ivanka said, claiming that she "was not expecting the intensity of this experience" on the Trump team. Still, she admitted, "This isn't supposed to be easy." Ever her father's cheerleader, Ivanka segued: "With all the noise, with all the intensity of the media coverage and, obviously, what makes headlines, ultimately we're really focused on why the American people elected Donald Trump, and implementing that plan."
Ivanka was apparently surprised at the "level of viciousness shown her father" — a man who, while campaigning, mused "I could stand in the middle of 5th Avenue and shoot somebody and I wouldn't lose voters"; who mocked a disabled reporter on video; who bragged about the ease of sexually assaulting women in 2005; and who encouraged violence at his rallies. Honestly, how much more vicious does it get than that?
Twitter users were quick to latch onto Ivanka's shortsighted soundbite, providing some illustrations of Donald's own viciousness over the past couple of years, being sure to make note of a similar viciousness present in his presidential policies:
Among many other things, Ivanka seems to fail to realize that her father's statements and actions have ultimately deepened the divide between parties, turning groups against one another rather than looking for any common ground. In calling journalists "the enemy," in telling crowds of his supporters that "part of the problem ... is nobody wants to hurt each other anymore," Trump established an "intense," volatile, and, yes, "vicious" political landscape, even before he entered office. Many find his inflammatory statements unbearable, and have thus utilized all the resources available to them — social media accounts and protests among them — in order to be heard and to feel impactful. To think that the president's barrage of Twitter insults wouldn't receive any criticism is terribly naive.
Ivanka can continue to posit herself as a woke, sane, and compassionate member of her father's team, but to insist that intensity and viciousness are unwarranted, given all that the president has spouted thus far, isn't believable. It's time for Ivanka to reconcile or, at the very least, acknowledge her father's past behavior and admit the violent impact this behavior has perpetuated.