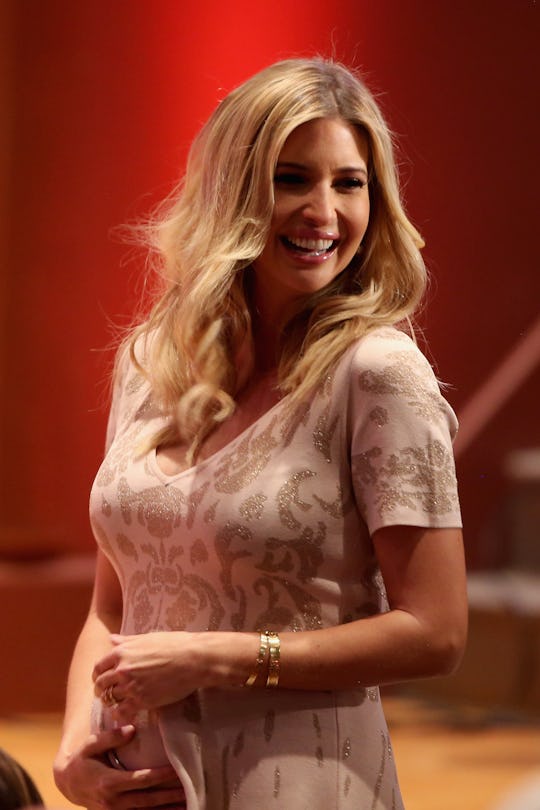 Christopher Furlong/Getty Images News/Getty Images
Ivanka Trump Gives Birth To Baby Boy & The Mom Of Three Couldn't Be More Proud
The Trump empire may have just gotten a little bit bigger. On Sunday morning, billionaire GOP front-runner Donald Trump's daughter Ivanka gave birth to a baby boy named Theodore James Kushner, the businesswoman's third child with husband and investor Jared Kushner. The couple made the announcement on Trump's official Twitter account.
"Jared and I feel incredibly blessed to announce the arrival of Theodore James Kushner," Trump wrote, tweeting a simple graphic with the tot's name, time of birth (5:43 p.m.), and the family's names (Jared, Ivanka, and children Arabella, 4, and Joseph, 2) below. "It's a boy!" the graphic read.
It's the third birth for the busy couple, who recently took a little time away from the chaos of their everyday lives to babymoon in Belize, according to People. An Instagram photo of the Trump Organization's Executive Vice President clad in a comfy beach get-up, dated December 22, 2015, read, "Jared and I snuck away together to enjoy a few days of R&R!" Subsequent Instagram pictures showed off Trump's adorable baby bump, with one photo's caption simply stating, "Enjoying the colorful backdrops in Belize."
Theodore's big sister, 4-year-old Arabella, seemed even more excited than anyone else about the little one's impending birth, prior to Sunday's big announcement. In an interview with People last November, Trump joked that Arabella had spilled news of the pregnancy before her parents could make any official announcement. "My daughter makes me blush quite a bit ... she reveals things about me in awkward contexts," said the businesswoman and retail entrepreneur. "Arabella [announced] to everyone I was pregnant prior to me announcing it to even my family. Her whole nursery school class was congratulating me."
According to E! Online, news of Theodore's birth came as something of a surprise, since Trump and Kushner were seen having brunch together earlier in the morning.
Trump has remained a constant fixture in her father's campaign up until now, only taking time to rest up in recent weeks. At a rally on March 1, the billionaire mogul told a crowd of supporters that his daughter could give birth "within the week."
In an interview with Town & Country last December, Trump stated that while her rigorous work schedule didn't allow for her to always be 100 percent involved with her children's activities, she had made it her duty to be with them whenever possible. "I don't do everything," she lamented. "I wouldn't be able to do what I do professionally if I did. I don't go to the afternoon classes. I don't take my son to the sports playgroup in the middle of the day."
Still, the mom of two (and now three) said did "all sorts of gymnastics" with her work schedule to make sure she was the one who put her children to bed and the one who woke up with them in the mornings.
"Everything you choose to do outside of being with them has an opportunity cost that's much more real than the choice of hanging out with your girlfriends after work," Trump explained. "... I like to look through the filter of 'Is the life I'm leading consistent with my priorities?' For me, my family is the ultimate litmus test."
Despite the fact that Trump's busy work and family life just got a little bit more full with the arrival of little Theodore, it's a safe bet she and husband Kushner will be able to handle it all with ease.