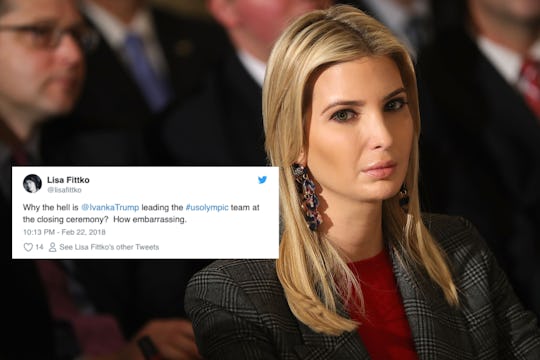 Chip Somodevilla/Getty Images News/Getty Images
Ivanka Trump Is Leading Team USA At The Closing Ceremony, & People Are So Pissed
The 2018 PyeongChang Games are almost over. The Olympics have been a wild ride, whether you're invested in skiing, ice skating, curling, or any other sport featured in this year's Winter Games. The closing ceremony will take place on Sunday to mark the end of the event, and one development regarding the ceremony already has people feeling a little negative about the whole thing. Ivanka Trump is leading Team USA at the closing ceremony, and people are, frankly, really pissed about it.
President Donald Trump's daughter is set to lead the United States delegation at Sunday's closing ceremony, after participating in several other events while she's in South Korea, according to The Huffington Post. In fact, Ivanka "eagerly accepted the opportunity," according to an administration official, after she was asked by her father to lead the delegation, CNN reported. Another official reportedly added that Ivanka is "a winter sports enthusiast," according to the outlet. I mean, if that's all it takes to do the job, I know a ton of people who are probably more enthusiastic about winter sports than Ivanka has ever seemed to be.
Ivanka has already arrived in South Korea ahead of the ceremony, ABC News reported. Because she didn't just show up in time to lead the team at the closing ceremony — she will also dine with South Korean President Moon Jae-in and go to some sporting events during her three-day visit, according to The Huffington Post. That's quite the trip, and a lot of responsibility for the "first daughter" who isn't an elected official.
Needless to say, Twitter was not happy about this development. For better or worse, Vice President Mike Pence represented the U.S. at the opening ceremony, but at least he was elected to his position. A lot of people on Twitter questioned why Ivanka was chosen to lead the delegation in South Korea, aside from the fact that she's the president's daughter.
It's especially strange because, according to CNN and other sources, other elected officials and even a former Olympian and current Team USA coach, Sgt. Shauna Rohbock, will be in attendance as part of the delegation too. So it's not as if there aren't other qualified representatives available.
"Daddy is gonna let her pretend to be an Olympian for the closing ceremony. Yaaaay!" one person tweeted, clearly in jest. And they were far from the only one mocking Ivanka's inclusion in the ceremony and her role as the president's daughter at the Games on the social media platform.
Ivanka said in a statement about her attendance at the Games, according to USA Today:
I am honored to lead the U.S. delegation to the closing ceremonies of the Pyeongchang 2018 Winter Olympics. We look forward to congratulating Team USA and celebrating all that our athletes have achieved. Their talent, drive, grit and spirit embodies American excellence, and inspire us all.
And that's all well and good, but a lot of people clearly don't feel that Ivanka is the right choice to lead a delegation in celebration of "American excellence" and the Olympic spirit.
Still others wondered whether Ivanka has... ulterior motives for traveling to South Korea for the Games.
But this isn't the first time Ivanka has represented the U.S. at an international event. She is, after all, technically a senior adviser to her father, and has taken his place at events like the G20 summit back in July 2017, according to The Guardian, despite the fact that she has no foreign policy or government experience (and, again, she wasn't elected).
But that doesn't mean people have to be happy about her representing the U.S. at any event. It doesn't really matter if Ivanka has done it before — people want to know why she keeps being asked to do it in the first place, when she's not an elected official or even the first lady.
In any case, it will be interesting to see how people feel about Ivanka leading Team USA at the Olympic closing ceremony after all is said and done. There are still a couple more days to go, and anything could happen during her meetings with world leaders and international athletes at the Games.
Check out Romper's new video series, Romper's Doula Diaries:
Watch full episodes of Romper's Doula Diaries on Facebook Watch.