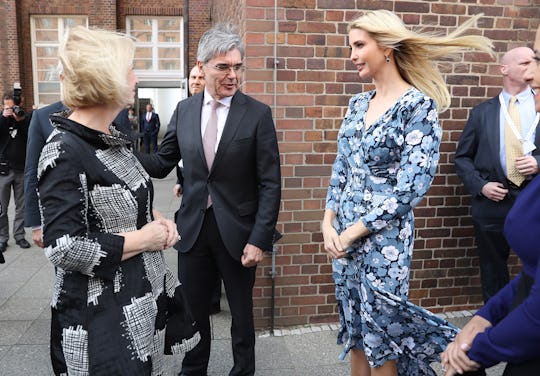 Sean Gallup/Getty Images News/Getty Images
Ivanka Trump's Concerning Planned Parenthood Suggestion
Long before her father won the presidential election last November, even during his divisive campaign, Ivanka Trump was accused of being complicit in his actions, and of refusing to refute his words strongly enough when he misstepped (critiques which she has denied in interviews since). And now, with an official White House title, it seems she's taking on the job of misunderstanding important topics for herself. For example, earlier this year, according to The New York Times, Ivanka reportedly suggested Planned Parenthood be spit into two separate entities, ostensibly to prevent federal dollars from going to abortion funding. Unfortunately, Ivanka completely missed an important point in the process.
According to the Times report, Ivanka suggested to Planned Parenthood's president, Cecile Richards, that "Planned Parenthood should split in two." She imagined that the women's health clinic could continue to function, but "with a smaller arm to provide abortions and a larger one devoted to women's health services."
But while Ivanka's suggestion is certainly one that serves the (mostly) homogenous pro-life stance of Republicans, it's also one that (again) showcases her privilege, as well as demonstrates a complete lack of understanding of how federal funding works. Because although Ivanka is attempting to assure taxpayers that they won't be paying for abortions, her suggestion might actually end up costing citizens even more.
Romper has reached out to the White House for comment and is awaiting a response.
To clarify, Planned Parenthood already doesn't use any federal funding for their abortion services, under the Hyde Amendment. But Ivanka still decided to bring up the idea of splitting the clinic into two in order to "find a common-sense solution amid the roar of abortion politics" — so yeah, she thinks her plan would serve as the end-all be-all to the decades-long pro-life vs. pro-choice rhetoric. That, in and of itself, is a pristine example of Trump's conflated sense of privilege. But it doesn't stop there.
Ivanka's suggestion that Planned Parenthood be divided would also make it that much more emotionally straining for women who are seeking their abortion services. All those protestors holding graphic (anatomically incorrect) signs and yelling at women, usually without even knowing why those women were even there, could arguably have a new focused target if Trump's proposal were to be put into action. It's a sad, but foreseeable scenario.
Although the exact consequences of Ivanka's Planned Parenthood suggestion are largely unknown, it's very clear the she's either not as well-informed on the subject as she claims to be, or she just doesn't quite understand it well enough to be making important decisions about it — and she should be well-versed in women's health care rights. As Richards said in an interview with Cosmopolitan, "She actually works for the federal government. She's now an employee for all of us. She chose that role. So now, if she's not comfortable standing up for what she believes in for women, then she perhaps needs to think about that."