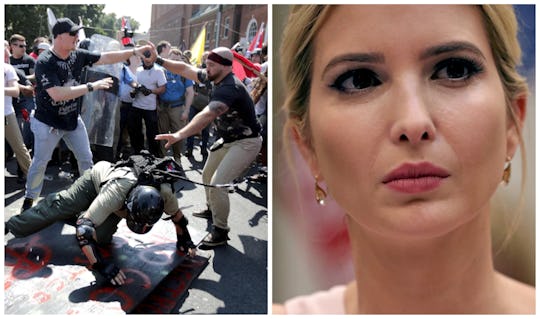 Chip Somodevilla/Getty Images News/Getty Images
Ivanka Trump Condemned The Charlottesville Violence The Way Her Dad Should Have
The aftermath of the "Unite the Right" rally in Charlottesville, Virginia this weekend has been nothing short of devastating. The rally, which brought together white nationalists and left one counter protester dead, showed that hatred is deep and alive in the United States. There is so much that should have been said in the wake of this tragedy, especially from President Donald Trump. Instead, Ivanka Trump responded to the Charlottesville violence the way her dad should have, which is so respectable.
During a press event in New Jersey on Saturday, Trump "went off script" to address the violence happening in Charlottesville as he spoke, which let more than 19 people injured, according to CNN. As reported by the news outlet, Trump said:
We condemn in the strongest possible terms this egregious display of hatred, bigotry, and violence on many sides. On many sides. It's been going on for a long time in our country. Not Donald Trump. Not Barack Obama. This has been going on for a long, long time.
But the problem with Trump's statement was not the fact that he didn't want to take some kind of blame for the rally (in spite of hiring the former editor of alt-right news site, Breitbart, Steve Bannon, as one of his top advisors). Rather, it's the fact that he blamed "many sides" and refused to say the words "white supremacists," "white nationalists," or even "neo-Nazis" —and that spoke volumes.
Trump's daughter and White House counselor took to Twitter, however, to say everything that her father either could not or did not want to say — identifying those who caused the violence in Charlottesville.
"There should be no place in society for racism, white supremacy and neo-nazis," Ivanka tweeted early Sunday morning. "We must come together as Americans — and be one country UNITED. #Charlottesville."
Ivanka's statement also does something that her dad should have done. It asks everyone to stand together in solidarity and opposition against the violence, together. It's a valiant call to action that the leader of the United States should have made. Instead, Trump's own statement made Saturday went nowhere.
It was expected of Ivanka to make a statement about what went on in Charlottesville. Ivanka and her husband, Jared Kushner, a top White House advisor, are both practicing Orthodox Jews, according to Newsweek and have raised their children the same way. "I really find that with Judaism, it creates an amazing blueprint for family connectivity," Ivanka told Vogue about her faith in 2015.
It is clear that this rally was an indirect attack on Ivanka and her family and all Jewish people living in the United States. Videos and photos from the horrific rally show participants wearing Nazi symbols and shouting "blood and soil," a Nazi-associated, anti-Semitic slogan, and "Jews will not replace us," according to Vox.
With so many of his loved ones affected by anti-Semitic hate speech, Trump had the perfect opportunity to support his family and the nation by making a stance against neo-Nazis and white supremacists. Sadly, his daughter had to do it for him.