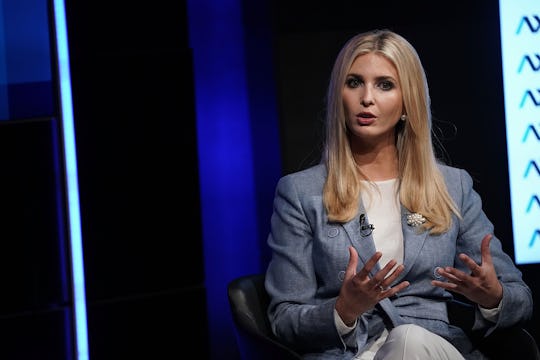 Alex Wong/Getty Images News/Getty Images
Ivanka Trump Said Family Separations Were A Low Point For *Her* & Twitter's Pissed
Of all of the people deserving of compassion and sympathy throughout the catastrophic separation of families at the U.S.-Mexico border, I'm pretty sure members of the Trump family are at the bottom of the list. But apparently one Trump missed that memo. In a recent interview during an Axios event in Washington, Ivanka Trump said that family separations were a low point for her and the voices of Twitter collectively lost it.
In case you somehow missed out on the numerous reports, here's a bit of background on what has been happening at the border. As part of a "zero tolerance" policy, U.S. government officials have been separating children from families who cross into the U.S. illegally. Children are being labeled "unaccompanied minors," while parents are being branded as criminals and sent to jail, according to Vox. As of May 31, at least 2,700 children had been taken away from their families at a rate of about 45 children a day. Critics of the policy are calling it a human rights infringement and calling for families to be reunited. Due to a court order, 1,442 children have been reunited with their parents, according to The Washington Post, but an unacceptable 711 children still remain in U.S. custody. A reported 431 parents of those children have been deported... without them.
Meanwhile, Ivanka is apparently suffering as well *insert eyeroll here.*
In an interview during an Axios event on Thursday, Ivanka stated that the family separations at the border were a "low point" for her, according to CNN, and explained that she is "vehemently against" taking kids away from their parents. Many took to Twitter to express their indignation and outrage at her statements.
While Ivanka a statement of disapproval is certainly the right way to go when asked how you feel about children being put in cages, Twitter felt that her sentiments were too little, too late.
Additionally, many of the tweets pointed out that while Ivanka claims to have been struggling with the news of families being separated, she was posting photos like the one below. The fact that she was cuddling with her son while babies were reportedly being ripped from the breasts of their mothers while breastfeeding (yes, literally) was just too much for some people to handle — myself included, TBH.
Ivanka's statements during the interview seem to suggest that the events at the border are something that she could not have prevented. However, as many on Twitter pointed out, her father is the one who put the policy in place that led to families being torn apart. Surely she could have done something if it was that hard for her to bear.
Another common response to Ivanka's interview was to point out that families are still being separated. While President Trump signed an executive order on June 20 to stop children from being taken from their parents, officials are scrambling to enforce his zero tolerance policy for arrests and jailing, according to USA Today. Also, there has been little done to reunite families as Trump and the U.S. government ask for "more time" to attempt to minimize the irreparable damage that has been done to thousands of families.
Overall, Twitter is largely unimpressed with Ivanka's attempt at compassion. In fact, I'd say it's downright pissed. Aside from pointing out flaws in Ivanka's logic, many just expressed their frustration with a bit of profanity.
Empty words and halfhearted sentiments won't reunite families. Rather than make statements about how much of a "low point" the separations are, perhaps Ivanka should speak with her father about the issue or, better yet, consider doing something to actually help. If you are interested in donating your time, money, or assistance to these families, there are a number of organizations making a real effort to help. That's more than Ivanka Trump can claim.