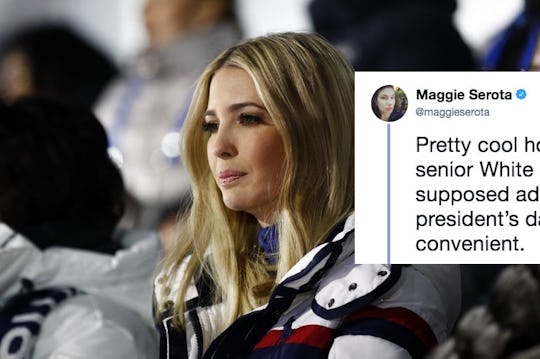 Pool/Getty Images News/Getty Images
Twitter Is Not OK With Ivanka Trump's Comments About Her Father's Alleged Sexual Misconduct
Ivanka Trump set off an internet firestorm on Monday, when a reporter asked her about the claims of sexual misconduct against President Donald Trump during an NBC interview in South Korea. In her response, Ivanka Trump said it's "inappropriate" to ask her about her father's alleged wrongdoing. Still, she answered the question, affirming that she believes her father rather than the women who have accused him. Needless to say, people were not pleased, and quickly pointed out numerous issues with her response. The White House did not immediately respond to Romper's request for comment.
Ivanka, who is a senior White House adviser, was in South Korea as a representative, at least according to a tweet from President Trump on Friday which read, "We cannot have a better, or smarter, person representing our country." Yet when an NBC reporter asked her, during a televised interview, if she believed her father's accusers, Ivanka replied, with a tight smile overlaying her clear agitation, "I think it's a pretty inappropriate question to ask a daughter if she believes the accusers of her father when he has affirmatively stated that there's no truth to it." Then, she went on to say, "I believe my father. I know my father. So I think I have that right as a daughter, to believe my father."
Immediately, many Twitter users raised the point that it seemed disingenuous for Ivanka to hide behind the shield of "daughter," when she's also a senior adviser to the president.
Meanwhile, others pointed out that Ivanka's comments can be viewed as problematic because she has positioned herself as this administration's champion of women's rights. She advocated for closing the wage gap (although she then backed her father's elimination of an Obama-era rule meant to support equal pay). She tweeted her support of Time's Up after Oprah's powerhouse speech at the Golden Globes about ending sexual harassment, and spoke out against Alabama Republican Roy Moore after multiple women accused him of misconduct when he was running for the Senate, as The New York Times reported.
But, according to this new interview, she seems willing to overlook the claims of 21 women who have accused President Trump of alleged sexual misconduct (ranging from unwanted groping and kissing to inappropriate comments) according to HuffPost, not to mention her own father's infamous, caught-on-tape admission that he grabbed women by the... well, you know, as Slate reported. Romper's request for comment from the White House regarding the allegations was not immediately returned.
Even Dictionary.com got in a beautiful bit of shade:
It seems that Ivanka wants to be a high-ranking adviser when the power suits her, and merely a daughter when things get too real. She says to be an advocate for women when it means making grand proclamations about equal pay and promoting her book, Women Who Work, but not when it involves taking a good long look at the ways in which misogyny informs her own father's alleged behavior.
Of course, it is difficult to grapple with the alleged bad behavior of loved ones. You could truly care about believing women, and still choose to make an exception for your own father. In the NBC interview, Ivanka told the reporter, "I don't think that's a question you would ask many other daughters." But Ivanka isn't like most other daughters, and she made that decision for herself. If she had chosen to support her father while continuing her life as a socialite and businesswoman in New York, perhaps it would be inappropriate to question her about her father's alleged sexual misconduct. But she chose to take on a senior role in the White House and take on a platform focused on women's empowerment.
Given her position in the White House, it seems more than appropriate to ask Ivanka about these issues.