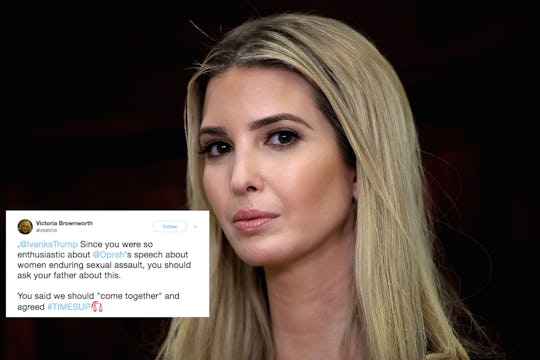 Win McNamee/Getty Images News/Getty Images
Ivanka Trump Tweeted Support For Oprah's Golden Globes Speech, & The Internet Is So Confused
The Golden Globes aired on Sunday evening, and even if you missed it and most of the coverage of the event since, it's hard to miss what people are saying about Oprah's speech from the awards show. Oprah accepted the Cecil B. DeMille Award at the Golden Globes, and her acceptance speech included some pretty moving words about speaking your truth, and how "a new day is on the horizon" for women and girls when it comes to harassment, discrimination, and abuse. The daughter of President Donald Trump, Ivanka Trump, tweeted support for Oprah's speech on Monday night, and the internet was a little... confused, to say the least.
Ivanka even used the now infamous #TimesUp hashtag in her tweet, and Twitter had a lot of opinions about it. It seems just a bit hypocritical on her part to try to join the movement or claim solidarity with it, because in the past, Ivanka has defended her father, who has been accused of harassment and assault by at least 17 women, according to Vanity Fair. Trump has either denied the accusations or said that he doesn't know the accusers. A representative for Trump has not responded to multiple requests for comment.
But defending her father against those accusations doesn't exactly suggest Ivanka's completely on board with believing all women who share their truths, as Oprah suggested in her speech.
The topics Oprah touched upon in her speech ranged from empowerment to protection to "speaking your truth," according to TODAY. When it comes to women sharing their stories, she specifically said during the speech:
What I know for sure is that speaking your truth is the most powerful tool we all have. And I'm especially proud of and inspired by all the women who have felt strong enough and empowered enough to speak up and share their personal stories.
Towards the end of her speech, Oprah added, according to The Boston Globe:
A new day is on the horizon. And when that new day finally dawns, it will be because of a lot of magnificent women, many of whom are right here in this room tonight, and some pretty phenomenal men fighting hard to make sure that they become the leaders who take us to the time when nobody ever has to say, 'Me too' again.
Needless to say, people were definitely confused by Ivanka's support on social media. Actress and activist Alyssa Milano suggested that Ivanka go one step further, and actually donate to the Time's Up legal defense fund, "that is available to support your father's accusers," as Milano put it.
A lot of people questioned Ivanka's support — on Twitter and in other corners of the web, as well as on news programs.
During an interview on MSNBC's The Last Word on Monday, the author of the book Fire and Fury, Michael Wolff, spoke about the tweet. He said of Ivanka, according to Vanity Fair:
Who does she think her father is? What does she think this White House is about? Why does she think her father was, in fact, elected? She doesn't get this, in some phenomenal way, head in the clouds, just denial.
Others were even more succinct in their responses to Ivanka's tweet, like Chrissy Teigen, who simply replied, "ew go away."
And some even quoted parts of Oprah's speech to Ivanka, to note why it's so strange that she appears to be in support of Oprah's words. Twitter user @PatriotJane2 did that just that when she replied to Ivanka and tweeted:
'We know the press is under siege these days. We also know it's the insatiable dedication to uncovering the absolute truth that keeps us from turning a blind eye to corruption and to injustice. To—to tyrants and victims, and secrets and lies.' This is about you, Trumps & the GOP.
To be fair, Ivanka has championed causes in the past that could align well with the #TimesUp movement and supporting women in the workforce, like paid family leave. But her efforts haven't developed into much under her father's administration.
All in all, Ivanka's support of Oprah's message was pretty confusing to the people of the internet and beyond. Some of the responses to her tweet were serious and somewhat accusatory in nature, but others looked at the humor of the situation and ran with it.
It's not totally clear which part of Oprah's speech Ivanka found "empowering and inspiring," especially as many pointed out that Oprah may have thrown a little bit of shade at the Trump administration in it. But one thing is for certain — Ivanka isn't going to be allowed to jump on the #TimesUp bandwagon without the internet having something to say about it.
Check out Romper's new video series, Romper's Doula Diaries:
Watch full episodes of Romper's Doula Diaries on Facebook Watch.