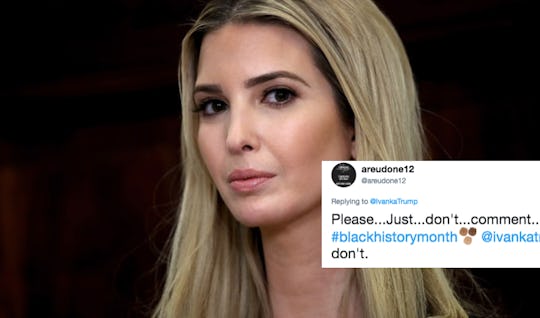 Win McNamee/Getty Images News/Getty Images
Ivanka Trump Tweeted About Black History Month & It Did Not Go Well
There's no way this could have gone well. February marks the 28 days out of the year when white people are kindly asked to acknowledge the struggles and contributions of a particular segment of their fellow Americans. It would be callous to ignore that, but when you're the daughter of President Donald Trump, any attempt to seem woke tends to be viewed by many as hypocritical, so when Ivanka Trump tweeted about Black History Month, the internet really let her have it. Try as they might to hedge their bets, members of Team Trump are not being embraced by the majority of Americans.
Honestly, she shouldn't be surprised, as she was previously called out for tweeting about Pride Month last June (something her father completely failed to recognize). It's unclear how closely Ivanka's values align with her father's, but she's the "assistant to the president," as well as his daughter, so while she may attempt to show support for marginalized groups with an offhand tweet from time to time, her actions — or lack of them — speak louder than words.
Some Twitter users found this latest post disingenuous, while others pointed out that as long as she's backing her father and his policies, paying lip service to the Black community is far too little, far too late.
There's a reason why Scarlett Johansson's Saturday Night Live portrayal of Ivanka eventually led to Dictionary.com naming "complicit" 2017's word of the year, is what they're getting at.
The tagline for the perfume Johansson/Trump was hawking in that parody ad: "The fragrance for the woman who could stop all this, but won't."
A brief refresher on the Trump family's role in Black history: in 1927, The New York Times reported that Fred Trump (who would go on to sire the president) was among those arrested at a clash between police and the KKK. The report said that he was later "discharged," implying that no charges were filed, and there were no further details. While it's unknown if he was a member of the KKK, he was not a police officer — he was in the real estate business.
In 1973, Fred and Donald Trump were sued by the Justice Department for allegedly refusing to rent to Black and Puerto Rican tenants, according to Politico. The case was eventually settled with no admission of wrongdoing. President Trump referenced the case in a 1987 book, writing that he and his father didn't "rent to welfare cases, white or black," as Politico reported.
In 1989, Donald Trump spent $85,000 on full-page ads in four different newspapers advocating for five Black and Hispanic teenagers to be put to death for the rape an assault of a white woman, despite the fact that DNA testing proved their innocence, The New York Times reported in October 2016. As recently as 2016, according to the Times, he had not changed his position on the matter.
In 2011, Trump began a years-long campaign of promulgating the false conspiracy theory that America's first black president was secretly born in Kenya. Once he became the Republican party's nominee in 2016, he finally admitted that President Barack Obama was born in the United States, and falsely claimed that former Secretary of State Hillary Clinton had started the rumor, as Politico reported.
Last Black History Month, President Trump said that abolitionist Frederick Douglass (1818 - 1895) "is an example of somebody who's done an amazing job and is getting recognized more and more, I notice."
Later that month, when Trump was asked by White House correspondent April Ryan if he planned to include the Congressional Black Caucus in agenda meetings, according to CNN, Trump asked her to set up the meeting, asking the Black reporter, "Are they friends of yours?"
According to multiple sources who spoke to The New York Times, the POTUS allegedly said during a June Oval Office meeting that Haitians "all have AIDS" and Nigerians live in huts. The White House did not immediately return Romper's request for comment, but has previously denied these comments.
After a violent protest that led to one death in Charlottesville, Virginia last August, Trump characterized the white nationalist protesters at the event as "some very fine people," according to The Atlantic.
Trump has repeatedly denigrated Black NFL players for silently protesting systemic racism and police brutality, said team owners should fire them and used the term "son of a b*tch" to describe them at a political rally last September, as reported by The Guardian.
Last month, according to NBC News, Trump allegedly characterized Haiti, El Salvador, and African countries as "sh*thole countries" and said he'd rather the United States accept immigrants from Norway instead, according to several witnesses, including two sitting senators. The White House did not immediately return Romper's request for comment on this matter, either, but Trump has previously denied that he used those specific words.
On the first day of Black History Month 2018, the Trump administration stripped the Office of Fair Lending and Equal Opportunity's enforcement powers, according to The Washington Post. OFLEO is a division of the Consumer Financial Protection Bureau that pursued cases against discriminatory lenders.
On top of all of this family history, a few Twitter users decided not to bring up Ivanka's father and grandfather, and instead pointed out that her tone-deaf tweet made Black History Month about "all Americans," as well as the fact that she used the word "sojouners" incorrectly. Perhaps she was confused that abolitionist and women's rights activist Sojourner Truth (1797 - 1893) was an actual, specific person, not a synonym for "Black historical figure."
In summary, Ivanka, the internet would very much like you to just stop.
Check out Romper's new video series, Romper's Doula Diaries:
Watch full episodes of Romper's Doula Diaries on Facebook Watch.