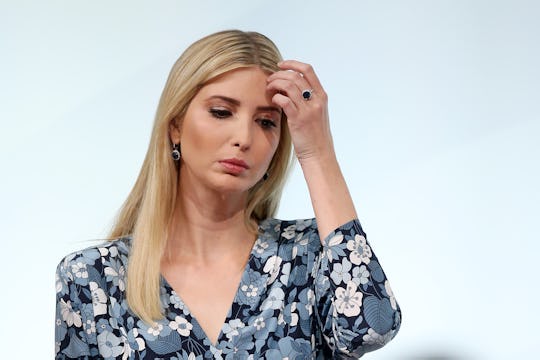 Sean Gallup/Getty Images News/Getty Images
Ivanka Trump Went To Berlin To Talk Women's Equality
At the W20 Summit in Berlin on Tuesday, Ivanka Trump joined a panel along with several female world leaders to discuss women's empowerment and feminism. Other members of the panel included German Chancellor Angela Merkel, the Netherlands' Queen Maxima, and Canadian Minister of Foreign Affairs Chrystia Freeland. The moderator of the panel, journalist Miriam Meckel, made a bold move and questioned Ivanka's role at the summit, asking whether she was there to represent her father, President Donald Trump, the United States, or her own business interests. And when Donald Trump was brought up, people weren't thrilled with Ivanka's response. Ivanka Trump went to Berlin to talk women's empowerment, but when it came to being asked about her father's desire to empower women, her response was less than satisfying, and people aren't having it.
Meckel specifically asked the panelists whether they consider themselves feminists, and nearly everyone on the stage raised their hands — including Ivanka Trump. "I do label myself a feminist, and I do think of that in broad terms," she reportedly clarified, according to NPR. She claimed that her father has encouraged her to take part in discussions like the Women20 Summit, but when she also claimed he is a, "a tremendous champion of supporting families and enabling them to thrive," the crowd wasn't pleased.
Politico reported that Ivanka, "was booed and hissed at by the majority-women audience at the conference when she lauded her father for supporting paid-leave policies." The moderator wouldn't let that go, and pressed Ivanka on the reaction from the crowd. Meckel said:
You hear the reaction from the audience...I need to address one more point — some attitudes toward women your father has displayed might leave one questioning whether he's such an empowerer for women.
Ivanka dismissed the criticism of her father, saying it's been "perpetuated" by the media. But Ivanka faced criticism of her own from the moderator, who asked, "what is your role, and who are you representing, your father as president of the United States, the American people, or your business?"
It was an especially pointed question, as other women on the panel included Christine Lagarde, the managing director of the International Monetary Fund, and Nicola Leibinger-Kammüller, the president and chairwoman of German tool and electronics company Trumpf GmbH, as well as previously mentioned world leaders like Merkel and Queen Maxima. Some asked why Ivanka was even there.
Creative Director Inga Meyer told NBC News she questioned Ivanka's inclusion on the panel, and said, "I think it's outrageous...Why does she have the power and the position to meet Angela Merkel?"
In response to being asked about her role, Ivanka stated that she was still "defining" it, according to NPR, but that she is intent on advancing women's issues. According to Politico, she said, "I'm striving to think about how best to empower women in the economy."
But apparently not having a more defined role and credentials to place her in such an important political position is rubbing some people the wrong way. NBC News also spoke on the streets of Berlin with Sandra Toepke, a woman who works at the International Film Festival. She said:
It's pure nepotism that she's in that position...She's partaking in negotiations at the White House and has security clearance.
And how is the internet reacting to Ivanka being included on the W20 panel, and to her comments about her father's "empowerment" of women? Not well, to say the least.
Twitter user @sherrilee7 specifically took on Ivanka's response about the media's role in reporting on her father's treatment of women, tweeting, "No @IvankaTrump 'the media' didn't perpetuate a damn thing about your dad. That anti woman vitriol came straight from him! He did that!"
In general, most of the tweets didn't hold back when it came to criticizing Ivanka's attendance at the event.
On her first international trip as an unpaid government employee and White House adviser to her father, things for Ivanka Trump got off to a rocky start. But she's also set to attend a gala dinner with Merkel Tuesday evening, and is scheduled to pay her respects at the Memorial to the Murdered Jews of Europe. So maybe the media won't "perpetuate" the story of Ivanka being criticized for being included on the W20 Summit panel for too long.