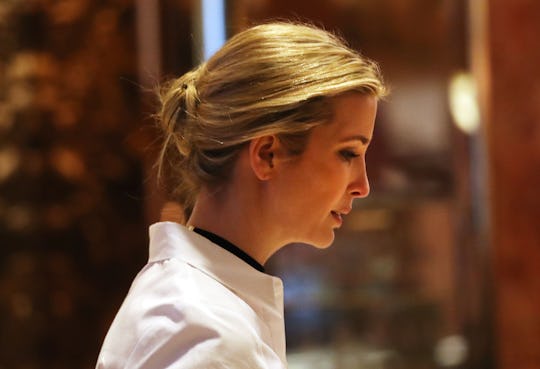 Spencer Platt/Getty Images News/Getty Images
Ivanka Trump Will Move To DC, Despite Claims She'll Stay Out Of Politics
President-elect Donald Trump's recent Twitter announcement that he would be "leaving his great businesses in total" to focus on his new role as president was seen by many as a hopeful sign that he was taking concerns about conflicts of interest between his businesses and the presidency seriously. But while he hasn't yet confirmed if he intends to pass his company onto his adult children, that's certainly what most people are expecting he will do. And, yet, it is now also being reported that Ivanka Trump will move to D.C., despite previously claiming she would stay out of politics.
According to CNN, Ivanka and her husband, Jared Kushner, are reportedly currently in the midst of moving their family from New York City to Washington, D.C. ahead of her father's inauguration. And that's being looked at as a strong sign that Kushner will indeed be acting in some ways as an adviser to Trump once he takes office. Although, according to The Week, anti-nepotism laws could make this impossible (even in an unpaid capacity), Trump himself certainly seems to be in favor of the idea. In fact, although Kushner has never served in any diplomatic government position, The Week noted that Trump has been open to having his son-in-law in charge of brokering an Israeli-Palestinian peace deal, even going as far as saying, "I think he'd be very good at it. He knows the region, knows the people, knows the players." (Trump's rep did not immediately respond to Romper's request for comment about that claim.)
According to CNN, White House Chief Of Staff Reince Priebus, for one, also hasn't disputed the likelihood of Kushner being involved in Trump's administration. In an interview with NBC, Priebus said, "I think Jared Kushner, obviously [Trump's son-in-law] is going to be very involved in decision-making."
But despite being poised to take over the Trump Organization with her two brothers, Donald Jr. and Eric, Ivanka has also indicated that she, too, has political interests. According to Vanity Fair, Ivanka said in an interview with 60 Minutes following her father's win that there were a number of issues that were important to her, such as wage equality and child care, and that she plans to continue to advocate for those things, although not in a "formal capacity."
Already though, there have been concerns. According to Reuters, Ivanka and Kushner were present when Japanese Prime Minister Shinzo Abe met with Trump at Trump Tower in New York City on Nov. 18 to discuss the president-elect's position on the alliance between the two countries. And, according to New York Magazine, Argentine president Mauricio Macri told a Japanese newspaper that, during a post-election congratulatory phone call to Trump, he also spoke to Ivanka, whom Macri said he has known "since her infant days." (President-elect Trump hasn't responded to requests for comment regarding the meeting with Abe.)
The problem with both Kushner and Ivanka's involvement in Trump's administration is that, well, it's hard to see how it isn't yet again another conflict of interest. For Trump to actually avoid a conflict of interest by transferring his company to Ivanka, they would actually have to keep business and politics separate. And, according to The Week, Kushner himself is also a real estate developer, a businessman with lots of money in the game and next-to-no political experience. If Trump wanted to reassure voters that he wasn't crooked — that he wasn't going to engage in unethical deals based on his own business interests — it seems that he should be making a bigger effort to keep his business separate from his political life. And recommending that his daughter and son-in-law not move to Washington might be a good place to start.