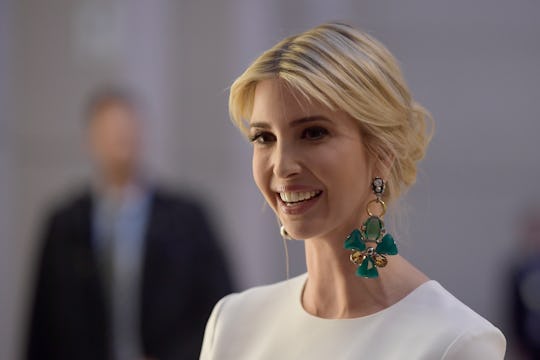 Pool/Getty Images News/Getty Images
We Edited Ivanka Trump's Book About Working Women
On Tuesday, Ivanka Trump released Women Who Work: Rewriting the Rules For Success, her much-anticipated new book. The book is intended to serve as a user's manual for women juggling their personal lives with their careers, a Lean In for the millennial pink generation. As a millennial woman in the workplace, I am ostensibly a member of the target audience for Trump's book. I am also the mother of a 4-month-old infant, which, given Trump's platform as an advocate for working moms, places me squarely within her demographic.
Yet upon reading an excerpt of her new book, which was recently published in Fortune, I realized that even though Ivanka's book was intended to speak to the concerns of working women, it didn't so much address the concerns of working women like myself so much as it seemed to address the concerns of one working woman in particular: Ivanka Trump.
"Why would someone publish this?" I wondered. "Didn't Ivanka Trump have an editor?" It occurred to me that she did, in fact, have an editor — me. So I decided to take to my keyboard and edit an excerpt of Ivanka Trump's new book to make it more relatable to her intended audience. Ivanks (may I call you Ivanks?), here are some editorial suggestions — from one working mom to another. (My notes are in all caps.)
Becoming comfortable authentically expressing myself as a female executive with kids was a bit of a journey REPHRASE — CONTRARY TO WHAT OB-GYN OFFICE BROCHURES WOULD SUGGEST, "JOURNEY" ISN'T A WORD YOU USE TO DESCRIBE A LIFE STAGE. IT IS A BAND, AND THEY ARE AWESOME. for me. So many of the women in my life—like my three sisters-in-law, whom I adore (two are stay-at-home moms, the other works outside the home) IS THE "WORKING" SISTER-IN-LAW YOU'RE REFERRING TO NICOLE KUSHNER, WHO ACCORDING TO HER LINKEDIN PROFILE SERVES AS A PRINCIPAL AT THE KUSHNER REAL ESTATE VENTURE, WHICH IS WORTH AN ESTIMATED $1.8 BILLION? IF SO, REPHRASE "WORKS OUTSIDE THE HOME" TO "WORKS FOR HER DAD" (IF YOU WANT TO ADD AN "LIKE I DO, TWINSIES!!! LOL" FOR FULL TRANSPARENCY, YOU CAN, BUT THAT'S UP TO YOU) —had been so unabashed and transparent in embracing their new roles after having children, WHAT DO YOU MEAN BY "NEW ROLES"? DOES BECOMING A MOTHER NECESSARILY MEAN YOU HAVE TO BECOME AN ENTIRELY DIFFERENT PERSON? and yet I was rather guarded.
Part of it was a preference for privacy, CUT - PRIVACY IS NOT A CONCERN THAT MOST WORKING MOMS HAVE. MOST NEW WORKING MOMS ARE TOO CONCERNED WITH NOT ACCIDENTALLY KILLING THEIR CHILDREN OR FALLING ASLEEP ON THEIR DESKS AND DROWNING IN A SHALLOW PUDDLE OF THEIR OWN DROOL TO WORRY ABOUT ANYTHING ELSE. but another part was grappling with whether being a young female executive with a baby would undermine my authority WAS THIS AN ACTUAL WORRY? YOU'RE THE BOSS'S DAUGHTER. SO IF ANYTHING THAT WOULD UNDERMINE YOUR AUTHORITY, NOT THE FACT THAT YOU HAD A KID in the eyes of my colleagues COLLEAGUES IMPLIES EQUAL STATUS — YOU'RE THE CEO and peers PEERS IMPLIES EQUAL STATUS — YOU'RE THE CEO in a very male-dominated industry. MOST WORKING WOMEN WORK IN MALE-DOMINATED INDUSTRIES; NOT SPECIFIC TO REAL ESTATE. I WOULD REPHRASE FOR ACCURACY: "IN AN OPPRESSIVE PATRIARCHAL SYSTEM THAT IS BEING PERPETUATED BY MY FATHER'S ADMINISTRATION"
I didn't share a single picture of Arabella publicly until after her first birthday, SO YOU MEAN YOU DIDN'T PUT ANY PHOTOS OF HER ON FACEBOOK OR INSTAGRAM? LOTS OF PARENTS DON'T POST PHOTOS OF THEIR KIDS ON SOCIAL MEDIA at which point the paparazzi snapped a photo of us at an airport. OH. OK, THAT'S NOT WHAT YOU MEANT AT ALL. I didn't want the first photo of my daughter to be sold to the press, CUT, THIS IS AN ISSUE THAT AFFECTS ONLY YOU AND BLAKE LIVELY AND MEMBERS OF THE ROYAL FAMILY so I posted an image myself on one of my social media accounts; after that, I began posting photos of our family more frequently. CAN YOU ADD WHAT APP YOU USE TO MAKE YOUR HAIR LOOK SO SHINY ON INSTAGRAM? THIS ISN'T AN EDITORIAL NOTE; I JUST WANNA KNOW.
I wasn't expecting the overwhelming number of comments I received in response to these candid family snaps. CUT "CANDID" — THIS INSTAGRAM OF YOU WITH YOUR TODDLER SON LOOKS LIKE IT WAS STYLED BY AN OVERZEALOUS DILLARD'S CATALOG PHOTO EDITOR. So many people expressed surprise and relief ACTUALLY MOST OF THE COMMENTS ARE EITHER EMOJIS OR SPAM FROM ELVIS PRESLEY DEATH CONSPIRACY THEORISTS. ALSO SOMEONE JUST WROTE "IKEA!," FOR SOME REASON. that I was comfortable revealing a more private side of myself. NOT SURE IF "PRIVATE" IS THE RIGHT WORD HERE — MOST OF THESE ARE SUPER STYLIZED FAMILY PHOTOS. IF YOU POSTED A PHOTO OF YOU TAKING A DUMP WHILE SIMULTANEOUSLY USING YOUR FOOT TO ROCK YOUR SCREAMING BABY IN HIS BOUNCY CHAIR AND SCREAMING AT YOUR PARTNER TO PICK UP HIS BOXERS OFF THE FLOOR, DO I HAVE TO EVERYTHING AROUND HERE, I WISH I HAD A TIME MACHINE SO I COULD GO BACK TO THAT FRAT PARTY WHERE WE MET AND SPIKE YOUR NATTY LIGHT WITH CLEANING FLUID SO NO OTHER WOMAN WOULD HAVE TO DEAL WITH YOUR STUPIDITY, NOW THAT WOULD BE PRIVATE.
Especially in the first couple of years, I often heard things like, "It's so inspiring that you're such a hands-on mom NOT SURE "HANDS-ON" IS THE BEST WORD HERE, CONSIDERING YOU HAVE A NANNY WHO IS TEACHING YOUR CHILDREN TO SPEAK MANDARIN? and not intimidated to show that part of you," and "So amazing! You're not wearing makeup. UHHHHH YOU'RE DEFINITELY WEARING AT LEAST FOUNDATION IN THIS PIC I'm used to seeing you on The Apprentice in a powerful boardroom setting." CUT "POWERFUL BOARDROOM SETTING," REPLACE WITH "DAD'S FAILING REALITY TV FRANCHISE" The contrast was jarring, in a positive way. As professional women, we've traditionally been careful about sharing our personal lives, for very valid reasons. These comments emboldened me to share all aspects of my life—not just my more polished persona—more frequently. TONE OF THAT SENTENCE IS A LITTLE TOO STILTED — SOUNDS LIKE YOU'RE AN ALIEN POSING AS A HUMAN BEING TO GATHER INTELLIGENCE ON MANKIND, A LA 3RD ROCK FROM THE SUN, OR LIKE YOU'RE RUNNING FOR OFFICE. (AN ASIDE: PLEASE DON'T RUN FOR OFFICE. SERIOUSLY, PLEASE DON'T.)
I began to wonder whether I had been doing women who work a disservice by not owning the reality that, because I've got an infant, I'm in my bathrobe at 7 a.m. and there's pureed avocado all over me. WITH THE POSSIBLE EXCEPTION OF TONY SOPRANO, NO ONE HAS WORN A BATHROBE SINCE 1953. REPLACE WITH "BOXER SHORTS AND STAINED NURSING TANK" AND "PUREED AVOCADO" WITH "SPIT-UP, MUCUS, AND SOMETHING THAT'S EITHER SAAG PANEER FROM LAST NIGHT'S TAKEOUT INDIAN DINNER OR POOP AND YOU HAVE TO SURREPTITIOUSLY SNIFF IT TO FIGURE OUT WHICH ONE IT IS, AND IF YOU STILL CAN'T FIGURE IT OUT YOU TASTE IT AND THEN FEEL HORRIBLE ABOUT YOURSELF FOR THE REST OF THE DAY."
I realized that it might be helpful in changing the narrative—even in a small way—to, for example, debunk the superwoman myth LITERALLY NO ONE THINKS THAT ABOUT YOU by posting a photo that my husband candidly CUT "CANDIDLY" — SEE ABOVE NOTE snapped of me digging in the garden with the kids in our backyard, my hair in a messy ponytail, dirt on my cheek. SWAP OUT WITH ANOTHER EXAMPLE — GARDENING IS NOT A GOOD EXAMPLE OF A "WORKING MOMS" ACTIVITY. MOST WORKING MOMS I KNOW BARELY HAVE TIME TO WIPE THEIR ASS, LET ALONE TEND TO THE MUGWORT PLANT THEIR HOUSEKEEPER CONCEPCION PLANTED IN THEIR GIANT BACKYARDS. I've been careful not to pretend it's easy because it is not. NO SH*T, SHERLOCK.
It took me a while to have the confidence to know that my authenticity CUT — YOU KEEP USING THAT WORD, BUT I DON'T THINK IT MEANS WHAT YOU THINK IT MEANS as a mother with young children doesn't undermine my professional capabilities or my toughness at the negotiating table; being true to who we are and what our lives look like proves that women who work are real. DOES ANYONE DISPUTE THIS? Knowing my family is in the spotlight, SURE, THAT'S ONE WAY OF PUTTING IT I decided I was going to embrace it. If I can help celebrate the fact that I'm a super-engaged mom ADD "AND SUPER-ENGAGED EMPLOYER OF LARGE, ROTATING STAFF OF NANNIES AND HOUSEKEEPERS, ALL OF WHOM ARE MYSTERIOUSLY ABSENT FROM MY DISCUSSIONS OF FAMILY LEAVE POLICY AND SNAPSHOTS OF DOMESTIC BLISS ON INSTAGRAM and unabashedly ambitious entrepreneur CUT, SWAP OUT WITH "NEPOTISM POSTER CHILD", that yes, I'm on a construction site in the morning [CUT, SWAP OUT WITH "IN MY OFFICE WHILE MY UNPAID INTERNS UPLOAD INSPIRATIONAL QUOTES TO MY INSTAGRAM" and at the dinner table with my kids CUT, SWAP OUT WITH "GETTING VAMPIRE FACIALS WITH GWYNETH PALTROW IN PALM SPRINGS AND SWAPPING TIPS ON HOW TO BE RELATABLE" in the evening, I'm going to do that.
Part of what I hope to accomplish with our Women Who Work initiative is for you to feel comfortable doing that, too. Together we will debunk the caricature of what it looks like to be a "working woman." LITERALLY NO IDEA WHAT THAT CARICATURE IS/WHAT IT ENTAILS/IF A CARICATURE OF A WORKING WOMAN EXISTS AT ALL. DO YOU THINK WE'RE ALL RUNNING AROUND WITH FRIZZY HAIR LIKE WE'RE IN A "CATHY" CARTOON, TRYING NOT TO LET OUR RAGING PERIODS GET IN THE WAY OF FILING THOSE EXPENSE REPORTS INTO OUR BOSSES BEFORE 3 PM? YES, IT IS DIFFICULT TO BALANCE HAVING A CAREER WITH HAVING A FAMILY; YES, WE ARE OFTEN FRAZZLED AND CRUNCHED FOR TIME; YES, THERE IS ROOM FOR A DISCUSSION ABOUT HOW TO IMPROVE WORKING WOMEN'S LIVES BY ADOPTING INSTITUTIONAL CHANGES LIKE PAID FAMILY LEAVE AND EQUAL PAY AND STATE-FUNDED CHILD CARE. BUT THERE DOESN'T SEEM TO BE ANY ACKNOWLEDGMENT ON YOUR PART THAT AS A MEMBER OF YOUR FATHER'S ADMINISTRATION, YOU ARE IN A UNIQUE POSITION TO BE ADVOCATING FOR THOSE CHANGES. AND WITH THIS BOOK, IT SEEMS LIKE YOU'RE PRIMARILY ADVOCATING FOR YOUR OWN BRAND, OR AT LEAST ADVOCATING FOR YOUR OWN SLOT AS A TEDTALK SPEAKER.
PLS REVISE :)!