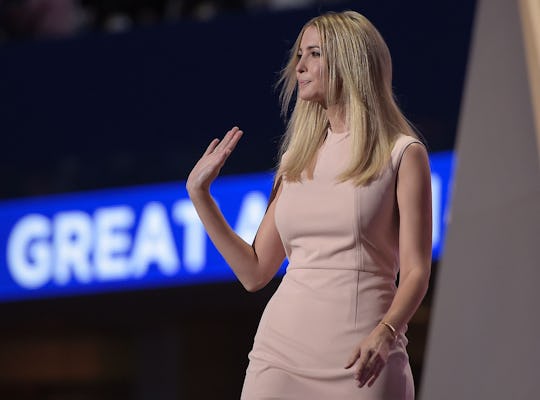 BRENDAN SMIALOWSKI/AFP/Getty Images
Ivanka Trump's Fashion Line Doesn't Offer Paid Leave For All Employees, & It's Not Cool
Ivanka Trump's role in her father's presidential campaign has primarily emerged as the reassuring voice to women that Trump cares about women and their problems. And while the undeniably beautiful, poised, and well-spoken wife, mother, and presidential campaign adviser would seem to be the ultimate messenger for women, we now know that maybe she isn't as trustworthy as she seems. Ivanka Trump's fashion line doesn't offer paid maternity leave, which should prove to all women how insincere the scion is about fighting for women's issues.
In front of the Republican National Convention Ivanka Trump told American women what they already know to be true.
"American families need relief," she said, according to NBC News. "Policies that allow women with children to thrive should not be novelties they should be the norm."
It was a great start that undoubtedly had mothers everywhere nodding in agreement. "He will fight for equal pay for equal work and I will fight for this too, right alongside of him," she said.
And that sounds so nice. Except we now know that isn't true. We don't know how Trump pays women who work for him in his private business, but according to CBS News, the Trump campaign pays women staffers an average of 35 percent less than their male counterparts.
And now a report from the Washington Post found that the company behind Ivanka's clothing line doesn't offer its employees paid maternity leave. The company, G-III offers the bare minimum of 12 weeks of unpaid leave after one year of employment, according to the Post. Her own personal brand, which advertises itself as "the ultimate destination for Women Who Work" only offers eight weeks of paid leave for mothers, the Post reported. There is no comprehensive policy for parents of any gender.
If you wanted to be generous, you might suggest that since Ivanka just contracts with the company she shouldn't be held responsible for the policies that company extends to its employees. But Ivanka has marketed herself around #WomenWhoWork and got up in front of the country to announce she would help her father work for equal pay and workplace equity for women. It doesn't seem far fetched to expect she start with a hard look at the workplace policies she can directly influence. And she should have a little sway around G-III considering the Washington Post reported her clothing brand earned about $100 million last year.
But instead of helping women achieve pay equity in her father's organization, or setting an example for the kind of paid leave new mothers enjoy across the industrialized world, Ivanka used her girl power RNC speech to try and sell people the dress she was wearing. Her twitter account even tweeted a "shop the look" with a link to buy the $158 dress from her own line.
It's a bit insulting, especially because Trump's campaign website still doesn't even mention paid leave or better workplace policies to help women. Ivanka needs to come out explain herself and do what she says she will for the country: fight for paid leave.