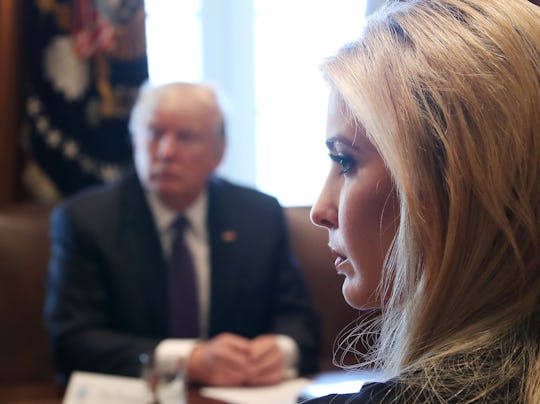 Mark Wilson/Getty Images News/Getty Images
Ivanka Trump's Paid Leave Policy Is Still Lacking
First daughter Ivanka Trump may be considering changing elements of her paid parental leave plan to include, well, more parents, according to a New York Times report. After wide criticism that her original plan did little to support fathers or many same-sex couples, Trump and several White House advisers reportedly met with lawmakers this month to explore revising the plan to cover more families — and possibly garner more support from Congress. But while it's good news that Ivanka Trump's paid leave policy has changed to become more inclusive, it still leaves many families behind and doesn't go nearly far enough to help those it does cover.
The original policy, unveiled last September during Donald Trump's presidential campaign, guaranteed working mothers six weeks of paid maternity leave if an employer didn't offer its own paid leave plan. The cost of the benefit would have come from unemployment insurance that the employer was already required to carry. The campaign estimated that the benefit would "triple the average paid leave" that new mothers typically receive, according to the announcement made at the time.
According to The Times, members of both political parties had trouble supporting the plan because of how few would actually benefit: not all parents give birth to their children, not all parents are women, and mothers aren't the only ones who benefit — emotionally or financially — from bonding with their newborn babies.
According to The Times, the new plan would cover mothers and fathers, whether they became parents by birth or through adoption. In addition, the plan would allow lawmakers to consider other funding sources, including a possible tax increase.
That shift is good news, but, according to research, it would likely take much more than six weeks of leave for families to get the full benefit. A CNN report cited evidence that generous paid leave reduced infant mortality risk, increased vaccination compliance, and even boosted the likelihood of successful breastfeeding. One study found that women who took at least 12 weeks of leave had fewer symptoms of depression; another study found that more generous paid leave was associated with lower rates of maternal depression — and those mental health benefits lasted up to 30 years later. (Plus, many women who do give birth are still healing at six weeks. I'm just saying.)
Though not an official member of her father's advisory team or cabinet, Ivanka Trump has had significant influence over her father's child care tax and family leave plan, according to The Times. Not only has she been the leading voice representing her father's agenda in meetings with members of Congress, she's been the one left to explain the thinking behind how the original policy was crafted. In a heated interview with Cosmopolitan last year, Ivanka tried to defend her parental leave policy and it didn't go well. When asked why dads were excluded, since paternity leave is good for gender equality, she argued that the benefit of parental leave was largely to help women recover from childbirth:
… [T]here's tremendous benefit here to enabling the mother to recover after childbirth. It's critical for the health of the mother. It's critical for bonding with the child, and that was a top focus of this plan.
There's much more left here too, in terms of any arguments that the plan only benefits wealthy parents (like Ivanka herself), leaving behind lower-income parents in its wake. The non-partisan Tax Policy Center in February called Ivanka's plan a "gift to the rich," noting that "70% of the benefits will go to families that make $100,000 or more and 25% will go to people earning $200,000 or more," according to CNNMoney. Bloomberg, quoting the Tax Foundation, "a politically conservative, nonprofit research group," also noted that the tax deductions therein were "both costly and regressive because [they] would favor wealthier families with two working parents."
It's shameful that, despite literally decades of research on the economic, health and social benefits, the United States remains the only industrialized country without federally mandated family leave. It's long past time the United States gets with the program — and it's good news that both sides are apparently poised to make it happen. But we won't get very far by narrowing the complicated picture of what it means to be a parent to one woman's (or one social group's) experience.