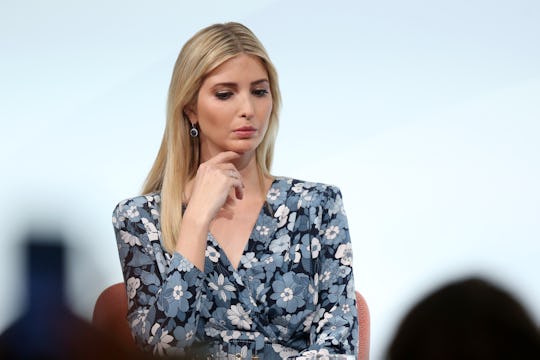 Sean Gallup/Getty Images News/Getty Images
Ivanka Trump's Shoe Design Lawsuit: A Breakdown
On Friday, U.S. District Judge Katherine Forrest ruled that Ivanka Trump must answer questions in response to a lawsuit filed by Italian shoe company Aquazzura, according to The Daily Beast. In the suit, Aquazzura claims Ivanka stole its designs to create cheaper versions of its products for her company. Although Ivanka tried to dodge the suit, she'll now have to answer questions about the alleged similarities between her shoe designs and Aquazzura's. Now that the case is heating up, here's everything you need to about Ivanka Trump's shoe design lawsuit. A representative for Ivanka did not immediately respond to Romper's request for comment.
According to CNN Money, Aquazzura Italia first filed the suit against Ivanka in June 2016, during the throes of Donald Trump's presidential campaign. Aquazzura, which was founded by Edgardo Osorio, sued Ivanka and her company IT Collection LLC for "trade dress infringement," according to The Fashion Law. For those not well-versed in legalese, trade dress refers to "the total image of a product, including features such as size, shape, color or color combinations, texture, graphics, or particular sales techniques," according to Wiemeltlaw.com. Essentially, trade dress infringement is considered to be an intellectual property law. In this case of trade dress infringement, Aquazzura claims Ivanka's "Hettie" shoe is "virtually identical" to his popular "Wild Thing" shoe, according to FootWear News.
The Designs
Obviously, the heart of this case revolves around the "Hettie" and Aquazzura's "Wild Thing." Although Aquazzura's design retails for $785, Ivanka's shoe sells for $130, according to HuffPost. If a judge rules that Ivanka did copy Aquazzura's design, then she'll also be guilty of taking advantage of consumers looking for the best deal possible.
As you can see below, Ivanka's "Hettie" does look a lot like Aquazzura's "Wild Thing." The only difference between the shoes appears to be in their coloring, with Ivanka selecting a slightly darker shade of red for "Hettie." Additionally, it appears Ivanka's shoe has a longer tassel than Aquazzura's design.
According to The New York Daily News, Aquazzura wrote on its Instagram page at the time of the initial suit:
One of the most disturbing things in the fashion industry is when someone blatantly steals your copyright designs and doesn't care. You should know better. Shame on you @ivankatrump! Imitation is NOT the most sincere form of flattery.
Aquazzura's Instagram outrage echoed the frustrated language in its suit, in which its lawyers said that Ivanka's "Hettie" design "mimics every key element of the trade dress of Aquazzura's well-known and distinctive" "Wild Thing" shoe, according to FashionLaw.com. Aquazzura's lawyers also claimed that Ivanka's "use of [its] Wild Thing Trade Dress is intended to mislead consumers into believing that Defendants' Infringing Shoe and Plaintiff's Wild Thing Shoe are one and the same, or that [Trump's] Infringing Shoe is made, approved, sponsored or endorsed by Plaintiff, or that the two companies are somehow connected."
Ivanka & Her Lawyers Respond
Following Aquazzura's suit, Ivanka and her lawyers formally responded to the allegations. In 2016 court documents, Ivanka denied she "engaged in any acts of infringement of Plaintiff's purported trade dress, unfair competition or deceptive trade practices, and lacks knowledge or information sufficient to form a belief as to the truth of the remainder of the allegations," according to The Hollywood Reporter. In Ivanka's most recent denial, she said to have "no involvement in the conception, design, production or sale of the Hettie Shoe," according to The Telegraph.
The Failed Dodge
Prior to judge Forrest ruling that Ivanka must answer questions related to the suit, her lawyers desperately tried to get her out of it. According to CNN Money, Ivanka's lawyers said her position (which still remains unofficial) at the White House is cause for excusing her due to "special circumstances." (Although many have argued that her position in the White House actually makes it more necessary that she answer legal allegations against her and her company.) Additionally, her lawyers also claimed deposing Ivanka "would be an unnecessary distraction and would interfere with her ability to perform her duties at the White House," according to Newsweek. What's interesting about this claim is, Ivanka just admitted that she "tries to stay out of politics," according to Jezebel. If Ivanka allegedly has no involvement in the political process, what "duties" are her lawyers referring to?
Unfortunately for Ivanka, Forrest ruled that her "high-level, authoritative, personal involvement," in the company is grounds for her to be deposed, according to a court ruling. The judge also said:
Ms. Trump's public statements regarding active and comprehensive brand management lead to a reasonable inference that the shoe at issue would not have been released without her approval.
Although it's unclear when Ivanka will be deposed, the consequences are serious if she is found guilty of trade dress infringement. According to UpCounsel.com, Ivanka could be forced to pay Aquazzura's attorney fees and to provide "monetary relief" for copying the designs. Additionally, Ivanka could face an injunction to stop producing the shoes in question all together.
Although it's very possible Ivanka won't be found guilty, being in this position is not a good look for the White House or her brand. Now that Ivanka is under an even more intense spotlight than she ever was before, everyone will be watching.