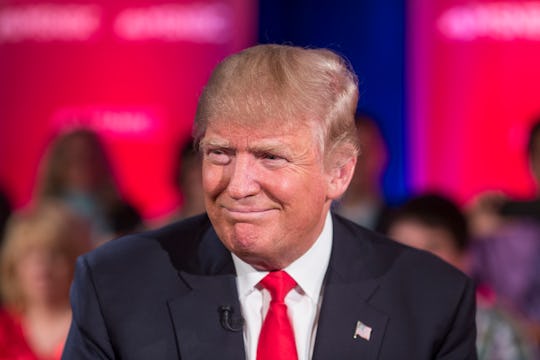 Tom Lynn/Getty Images News/Getty Images
#IWontBePunished Proves Donald Trump's Comments On Abortion Are Seriously Misinformed
Another day, another political blunder from the mouth of New York business man and Republican presidential hopeful, Donald Trump. Following comments the billionaire made during a town hall-style interview with MSNBC's Christ Matthews on Tuesday, many on both sides of the political aisle were upset, and for a good reason. In the hours after the broadcast was aired, a viral hashtag, #IWontBePunished, began trending, proving that Donald Trump's abortion comments were definitely out of line with what the majority of voters were thinking.
When he isn't branding more products with his name or starring in his own reality show, Trump busies himself with trying to win the hearts of the registered Republican voters and basically saying whatever is on his mind. Case in point, this Wednesday, when Trump sat down with Matthews for a rundown of his political stances this election cycle.
Matthews pressed Trump on his anti-abortion views and asked him if women should be criminally punished, should abortion be outlawed in the United States. Trump dodged the question for a bit, stumbling over himself before saying "The answer is there has to be some sort of punishment" for the woman getting the abortion. While Trump didn't elaborate on any specific punishment, it was enough to send Twitter into an uproar, with users posting their sentiments under the hashtag #IWon'tBePunished — a empowering statement against Trump's comments, which were seriously misinformed.
As Twitter user @MCMRules points out, no one should have to be punished for making their own decision when it comes to their own bodies. "Donald Trump is flat-out dangerous," said Dawn Laguens, executive vice president of the Planned Parenthood Action Fund said in a statement to Vox. "Women's lives are not disposable. There's nothing else to say, as Donald Trump's remarks today have said it all."
Laguens makes an incredibly important point. Women's lives are not disposable and neither their punishment nor the state of their reproductive rights should be determined or dictated by someone like Trump himself.
The creation of the hashtag on social media is very empowering for women who want to take a stand against Trump and his recent comments. With social media at their disposal, voters in this election are paying more attention — and if a candidate says something that does not make sense, people will be vocal about it.
#IWon'tBePunished proves that many people are more invested in the 2016 election than ever — and more importantly that the fight for reproductive rights is far from over.