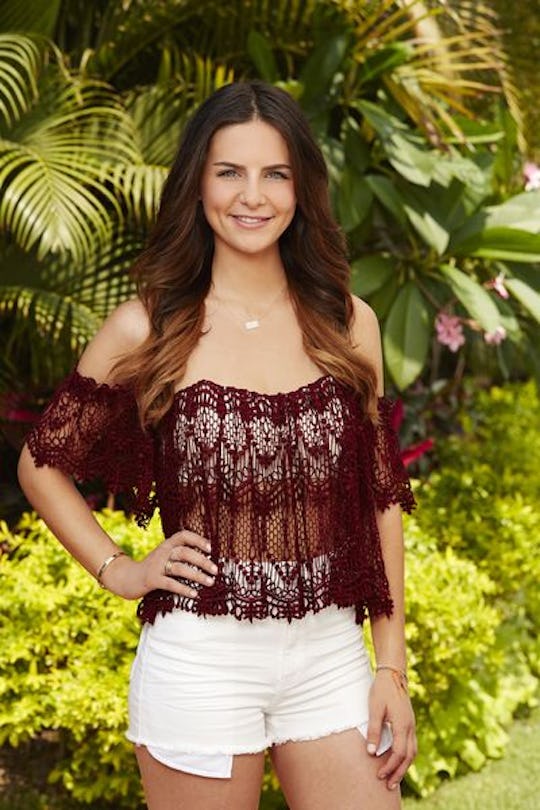 Craig Sjodin/ABC
Izzy From 'Bachelor In Paradise' & Katie Holmes Are Twins & These Photos Prove It
Bachelor in Paradise announced its Season 3 cast earlier this summer and one name in particular stood out to Bachelor fans as unusual in that, you know, no one recognized it. The Bachelor in Paradise contestants are typically memorable villains and hotties from the last two seasons of The Bachelor and The Bachelorette, with a few notable BiP alums sprinkled in for flavor (and because some people really trust ABC producers to find them love, apparently). But no one knows much about Izzy Goodkind other than that Izzy from Bachelor in Paradise and Katie Holmes are twins.
Izzy was a contestant on Ben Higgins' season of The Bachelor, though fans may not remember her because she was let go in the very first episode. (If you have a knack for recalling limo intros, she's the one who exited the vehicle in a onesie, telling Ben she "had to find out if [he] was the onesie for [her].") She's a 25-year-old graphic designer and dog mom who's based in New York City, and, considering her apparent love of donning a jumpsuit and hanging out in an empty bathtub with half a dozen bottles of champagne, it seems like Izzy's a great fit for BiP.
Izzy told AV Club back in January — after the premiere of Ben's season of The Bachelor — that she was already in talks back then to potentially do the next round of Bachelor in Paradise:
"That's been a hot question lately. I would most definitely consider it. I spoke to one of the producers the other day before the premiere. We talked about it. I would definitely consider it. It would depend on the circumstances, and where I'm at in my career and all that. So, it really depends, but I would go into anything I'm offered with an open mind."
It looks like she stayed at the top of that producer's list, even though Bachelor fans couldn't even remember her face during her season's "Women Tell All" special.
Though her face certainly does look familiar...
...So the real question is: do any of the Bachelor in Paradise guys have a latent crush Joey Potter? We'll have to wait for the Season 3 premiere on Tuesday, August 2 to find out.