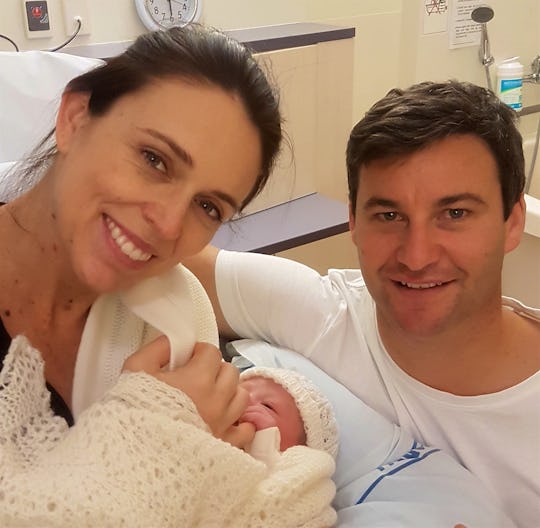 Handout/Getty Images News/Getty Images
This Woman Is the Second Head Of State In History To Give Birth While in Office
As if being the leader of an entire country isn't enough hard work, New Zealand's Prime Minister Jacinda Ardern just took on a second job: mom. Ardern just gave birth to her first child, making her the second head of state in history to give birth while in office.
Ardern, 37, shared the exciting news on Instagram on Thursday. She posted a photo of herself and her partner Clarke Gayford with their new baby girl. The proud parents are both beaming in the sweet family shot. "Welcome to our village wee one," Ardern captioned the picture, in which her daughter is adorably holding onto her mama's pinky finger. "Feeling very lucky to have a healthy baby girl that arrived at 4.45pm weighing 3.31kg (7.3lb) Thank you so much for your best wishes and your kindness. We're all doing really well thanks to the wonderful team at Auckland City Hospital."
Ardern said in a statement obtained by the BBC: "I'm sure we're going through all of the emotions new parents go through, but at the same time feeling so grateful for all the kindness and best wishes from so many people. Thank you."
The new mom will be taking six weeks of maternity leave, and Deputy Prime Minister Winston Peters will be taking on most of her responsibilities while she's out of office, the BBC reported. But, in between feedings and baby cuddles, Ardern will be fully available for contact from her team.
"Mr Peters and I have a great relationship, and I know that together we'll make this period work," she said in a press conference after announcing the exciting news earlier this year, Radio NZ reported. "I will make arrangements for appropriate Ministers to act in my other portfolios over the six weeks I am away from Parliament."
So, who was the first head of state to give birth while in office? That would be former Pakistani Prime Minister Benazir Bhutto, who gave birth to her daughter Bakhtawar in 1990, CNN reported. As messages of congratulations for Ardern flooded in on Twitter, many people pointed out that Ardern's new baby girl and Bhutto, who was assassinated in 2007, share the same birthday. Bakhtawarm, who is now 28, actually tweeted: "She delivered on June 21st - Shaheed Benazir Bhutto's Birthday 💗" (Shaheed is a word for a Muslim martyr.)
Gayford and Ardern first announced her pregnancy in mid-January. The Prime Minister shared a photo on Instagram of two large fishing hooks next to a tiny fishing hook (Gayford hosts a fishing television show). In the post, she explained that Gayford would be a stay-at-home dad to their baby while she held down the country's fort as Prime Minister:
Clarke and I are really excited that in June our team will expand from two to three, and that we'll be joining the many parents out there who wear two hats. I'll be Prime Minister AND a mum, and Clarke will be "first man of fishing" and stay at home dad.
Many working moms are undoubtedly inspired by Ardern for having a baby while in office as New Zealand's head of state — but she doesn't think she is any more of a superhero than any other working mother. "The big difference is that I have a lot of help," she told Marie Claire in an interview earlier this year. "I think the true role models are the single parents who don't have as much help as I'm going to have. I'm very mindful of that."