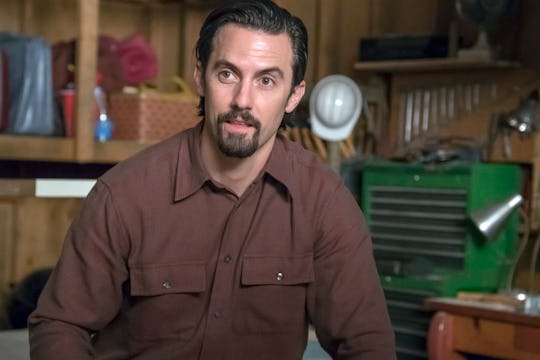 Ron Batzdorff/NBC
Jack's Death Didn't Play Out The Way 'This Is Us' Fans Thought It Would
This Is Us is known for its epic twists and the "Super Bowl Sunday" episode was no different, particularly when it came to figuring out the mystery behind Jack Pearson's death. Last we saw, a fire had set the Pearson house aflame, leaving many to believe that this was how Jack would meet his maker. But here's the thing — Jack didn't die in the fire on This Is Us and Twitter is downright confused about it.
Picking up right where the last episode left off, Jack awoke to find his house set aflame. Being the perfect human being that he is, he made sure to get the kids and Rebecca to safety, even going into both Randall and Kate's rooms to retrieve them. He also burned his hands while holding a mattress between him, Kate, and the fire. And when Kate was screaming for her dog to come out of the fire, Jack went back in to get him. This had to be where they lose him forever, right? It would definitely explain Kate's sensitivity for dogs. But alas, that was just a red herring. Jack walked out the front dog with the dog in his arms, making it seem like the worst had to be over. Except we know it's not and Twitter doesn't know what to think.
When the ambulance arrives, a paramedic informed him that he had second degree burns and that he inhaled a lot of smoke, so he'd need to get checked out at the hospital so they could run some tests. He seemed fine with it, as did Rebecca, not really thinking it would lead to anything that bad. After all, their house just burned down. What else could possibly happen? Unfortunately, we as the audience know better and understood this to mean it wasn't a good sign for Jack, regardless. He may have made it out of the flames, but his time on earth was still limited.
Viewers now know that the day of the fire is the same day Jack died, and even though the fire didn't kill him directly, something is going to happen to make this outcome possible.
As much as we wanted to believe Jack's death wouldn't happen and this was all an elaborate prank on the writers' part, we knew deep down that couldn't be the case. While Rebecca was on the phone making numerous calls to Kate and a nearby hotel, you could see doctors rushing into Jack's room. Shortly thereafter, a doctor came out and explained to Rebecca that Jack had gone into cardiac arrest from all the smoke inhalation.
Naturally, Rebecca couldn't understand what the doctor was saying because it didn't make any sense. He just had second degree burns on his hands, that's all. But that wasn't all, though Rebecca couldn't believe it. She couldn't believe it until she saw Jack's body for herself, lying there on the bed. It was absolutely heartbreaking on every possible level. We knew it was going to be a painful answer to the question we've been asking for practically two whole seasons. But that didn't make it any less difficult to cope with.
However, just in case you thought you couldn't be any more emotionally devastated than that, think again. Because fans also had to witness watching both Kate and Randall find out that their father was dead without them ever getting a chance to say goodbye. He died alone in a hospital room after being such an amazing hero. Never getting a chance to watch his kids grow up to be the adults they are today. Though as the adult versions of the Big Three have proven time and time again, even though their dad has been gone for 20 years, he still lives on in them each and every day. So I suppose we can all take some comfort in that fact.
Now if you'll excuse me, I have to go curl up in a ball and weep for a few hours. BRB.
Check out Romper's new video series, Romper's Doula Diaries:
Watch full episodes of Romper's Doula Diaries on Facebook Watch.