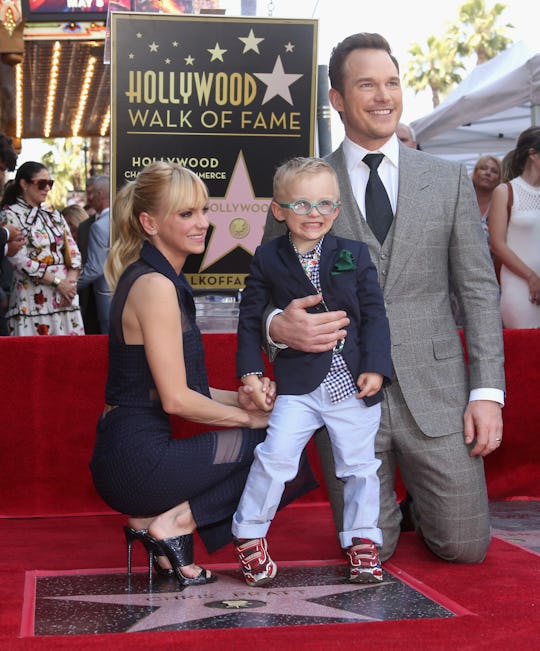 Jesse Grant/Getty Images Entertainment/Getty Images
Jack Pratt Gives Anna Faris A *Unique* Mother's Day Gift
There are a few classic categories of Mother's Day gifts. Kids who want to show their moms just how much they love them can go for the flowers, the chocolates, or, of course, the good old family photo. Jack Pratt, adorable son of Chris Pratt and Anna Faris, decided to go the picture route, but not in the way you might think. Instead, Jack Pratt's Mother's Day gift to Anna Faris was a family photo... of a stock photo family. And it might just go down in history as one of the funniest Mother's Day gifts of all time. Hey, it makes sense that Jack would have inherited the (potentially unintentional) comedy gene, given how hilarious his parents are.
Of course, 4-year-old Jack didn't just dump some photo of another family on his mother's lap, and peace out. He put in real effort. It seems that Jack took one of those photos you find inside of picture frames at the store, and made his own frame for it, complete with pom poms, paint splatters, and golden pipe cleaners twisted to spell out "Mom." He even painted, "You're the best!" on top of the frame, right above the strange family's smiling faces. Just look at it, in all of its glory:
Also note the Canadian maple leaf in the bottom left corner. Faris is not Canadian. Neither is Pratt. Perhaps Jack is a big fan of Justin Trudeau, or perhaps not. One cannot always understand a true artist, except with time.
Turns out that Jack isn't just amazing at giving Mother's Day gifts. He's also got mad cake-eating skills:
He's very inventive when it comes to fashion design:
And he's ready to take to the skies:
It's especially heartwarming to see how wonderfully Jack is doing given that he was born nine weeks early, and Pratt and Faris have been open about how Jack had to fight his way through a host of health problems that came along with his premature birth.
Though both Pratt and Faris have busy careers, with Pratt currently making the press rounds for Guardians of the Galaxy, Vol. 2, the family has made sure to get lots of quality time together, with all three of them recently heading to Tokyo to promote the Marvel film. On an Instagram photo of Pratt and Faris, Pratt wrote,
Thank you for the support honey! You look so beautiful. These press tours can be such a whirlwind. I'm grateful to have you and the boy with me on this one. Although it's 3:00am right now, I was just awakened by a square kick to the back as little man climbed into bed and then must have had a karate dream or something and now I can't sleep. I'm on insta instead. All you dads and moms know what I'm talking about.
Thanks to the entire Pratt/Faris family for making fans laugh. The world can't wait to see what Jack does for Father's Day.