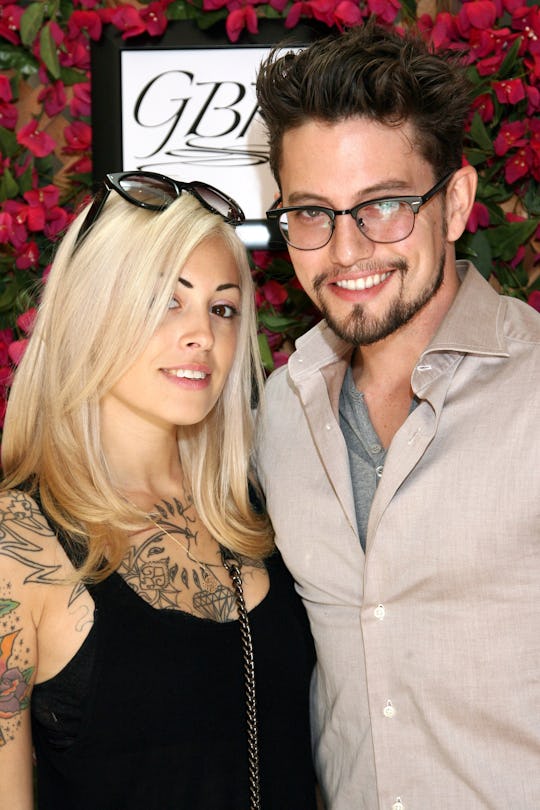 Tommaso Boddi/Getty Images Entertainment/Getty Images
Jackson Rathbone Welcomes New Baby With Wife Sheila Hafsadi & The Couple Are Thrilled
Congratulations are in order for one of your favorite vampires! Twilight's Jackson Rathbone welcomed a baby girl with his wife, Sheila Hafsadi this week. The new baby, named Presley Bowie Rathbone, is the second child for the couple.
Rathbone tweeted the happy news on Tuesday, saying "Today!! Our daughter is born!!" before sharing an adorable picture of the proud parents with their new bundle of joy. Presley Bowie, who weighs just over eight pounds, joins her brother Monroe Jackson Rathbone VI, who was born in 2012. And I can only assume that her two names are references to Elvis Presley and David Bowie, which means she'll probably be the coolest kid in school.
Rathbone and Hafsadi, a former burlesque dancer, met in 2011 when the actor was playing a show with his band, 100 Monkeys, in Fort Lauderdale. Rathbone saw Hafsadi working at the venue next door, and told People, "It was one of those things. I always said I believed in love at first sight, but I never really had that feeling before." In 2013, the couple tied the knot in a carnival-themed wedding. They've wanted another baby since then, with Rathbone telling People not long after the wedding, "I grew up with all girls, so if I had a little daughter that would be amazing." And on Tuesday, he got what he wanted.
Rathbone is best-known for making legions of teenage girls swoon as Jasper Hale, one of the brooding but goodhearted Twilight vampires. Since the Twilight juggernaut slowed down, he has worked mostly in smaller projects like MTV's Finding Carter, although he did have a leading role in the highly-anticipated The Last Airbender, which flopped both critically and financially. But looking through his social media, it seems that he's certainly stayed busy with film and music projects, and by being an awesome dad to Monroe.
And now he has another kid to take on dinosaur adventures! He first announced his wife's pregnancy back in March by sharing an old photo of the two of them beaming at each other during her first pregnancy on Instagram, captioning it, "#tbt to our first pregnancy. 8-9 months in this... Now we're 7 months along! #pregnantagain yay!"
Then, on Monday, he teased the impending delivery with a shot of Hafsadi in a bikini, belly on display, captioned "The wifey at #39weeks and one day! Soon, baby, soon..."
Many congratulations to the parents, and welcome to the world, Presley Bowie Rathbone!