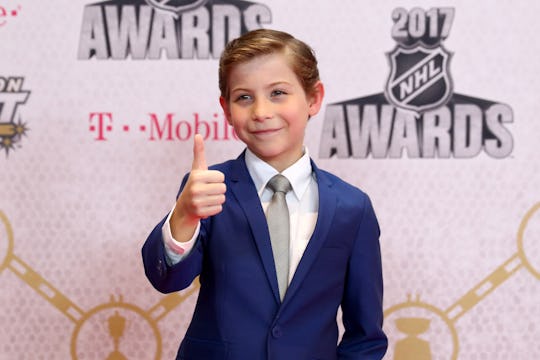 Bruce Bennett/Getty Images Sport/Getty Images
Jacob Tremblay Hunted Ryan Reynolds Down In Japan & They're Totally BFFs Now — PHOTOS
Jacob Tremblay stole all of our hearts when he got his first big break in the movie, Room. He's such a great actor and takes on so many serious roles that sometimes it's hard to remember that the Wonder star is just 11 years old, but if you follow him on social media, there are constant reminders that he's really just a kid. For example, Jacob Tremblay hunted Ryan Reynolds down in Japan because he's such a huge fan of Deadpool, which is just the cutest thing ever. And so are the pictures.
Tremblay and Reynolds both happen to be in Japan right now and when the young star found out, he could barely contain himself. Over the past few days, he's been posting pictures of his travels with the hashtag #HuntForDeadpool and it's been pretty hilarious. Like, for example, he tagged a pic of him at Disney, "#TheHuntForDeadpool continues...at #DisneylandTokyo...I thought Deadpool was a Marvel Superhero?! #whereistheDeadpoolride@VancityReynolds"
It all began because Reynolds took a selfie from his hotel window and Tremblay noticed. He posted a similar selfie of himself looking out of a hotel window and the skyline with the caption, "Where you at?! The hunt for #Deadpool begins..." By tagging Reynolds in each of the hunt pictures, the two actors actually made it happen.
On Wednesday, Tremblay posted a picture of them together. He captioned the post, "I FOUND HIM!!! If you can believe it you can achieve it!!!" he wrote. "#TheHuntForDeadpool #MissionAccomplished Thanks @VancityReynolds you are the greatest!" Reynolds, who was in Tokyo for the premiere of Deadpool 2, reposted the picture and captioned it, "Vancouver is alive and well in the heart of Tokyo. Call the search off. We found each other."
Those two seriously look like they could be BFFs, don't they? Tremblay could probably use a sit down with Reynolds and ask for him advice on working in comedy. According to Variety, Tremblay is slated to star in the R-rated movie Good Boys, which starts production in this summer. The movie is described as being "in the vein of Superbad and Sausage Party and follows four 12-year-old boys who skip school to embark on a day-long adventure fraught with comedic peril." It's being produced by Seth Rogen, Evan Goldberg, and James Weaver, so it will likely be a huge hit.
Which is something that Tremblay is used to, despite not even being old enough to see an R-rated film. He's been nominated for a SAG Award for Room and was recognized by the Broadcast Film Critics and National Board of Review. Variety reported that the tiny actor is going to be in Predator and just wrapped another movie called The Death and Life of John F. Donovan.
But acting isn't all Tremblay does. He told Awards Daily that starring in Wonder — which grossed $300 million globally, according to Deadline — helped him see the world differently. He told the outlet, "[It] taught me a lot and hopefully teach other people a lot. No matter what your race, gender or sexuality is everyone needs to be kind to each other." So he works with Choose Kind, an anti-bullying campaign that was inspired by the movie, according to People. He posted on the first day of school last fall, as reported by People:
It's my first day of school and I'm really excited and nervous just like you all might be. I wanted to take this opportunity to pledge to choose kind this year and encourage all of you to do the same. Let's pledge to choose kind so students can feel safe at school so they can learn. Let's pledge to choose kind so students from all walks of life can feel accepted and free to express and develop their individuality.
Maybe he can get his new pal on board with the campaign, too, now that they've finally tracked each other down in Tokyo.