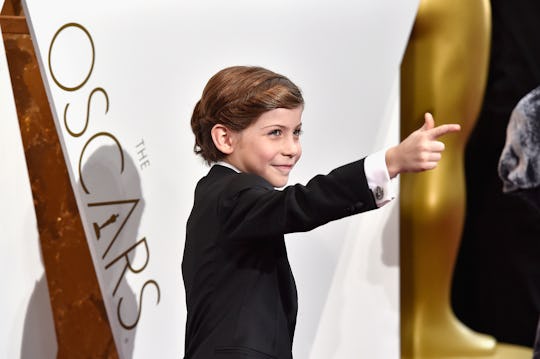 Kevork Djansezian/Getty Images Entertainment/Getty Images
Jacob Tremblay's Instagram Before The Oscars Is Too Freaking Cute
You are probably already enamored with the 9-year-old actor, but Jacob Tremblay's Instagram before the Oscars is going to truly warm your cold heart. The young star of the dark drama Room has made the 2016 awards season perhaps the most adorable one ever. He slugged Sylvester Stallone in the face, he talked up his best-friendship with costar Brie Larson, he fanboyed out over Star Wars, and he showed up at every event looking about as dapper as a kid could. And this time, he's out-cuted himself — and the event hasn't even begun.
While most movie stars are driven to the big event by chauffeurs in fancy cars, Tremblay's pre-event Instagram really reminds us that he's still just a little kid. With a caption "In the car! #Oscars," Tremblay's pic shows him dressed in a sharp tux and leaning jauntily on an elbow...in the backseat of his parents' car. Come to think of it, he's only a few years out from sitting in a car seat.
Speaking of his parents, Jacob and Christine Tremblay look like they should be on the red carpet in their own right tonight. We can see where young Jacob gets his sweet good looks.
Mr. Tremblay is so notably attractive that he was actually trending at the Golden Globes, but his wife Christina deserves her share of the attention too. Looking good, fam.
And to up the aww-quotient, Tremblay did a little imitation of his own smooth move when he chatted with Ryan Seacrest.
You may not win an Oscar, but you've won my heart, Jacob.