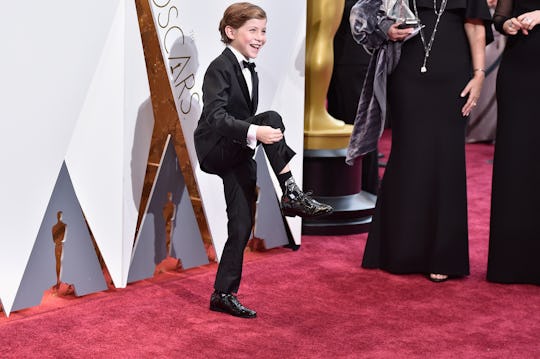 Kevork Djansezian/Getty Images Entertainment/Getty Images
Jacob Tremblay's Most Adorable Oscars Moment Proves He Loves 'Star Wars' More Than You
After giving some of the cutest red carpet interviews, Jacob Tremblay's most adorable Oscars moment was most definitely when Star Wars characters BB-8, R2-D2, and C-3PO were brought out on stage. He was definitely the biggest Star Wars fan in the Dolby Theater on Sunday night. Because the 9-year-old is about three feet tall, when the droids came out on stage, Tremblay basically climbed over his dad to get a better look at the bots. And the smile on his face is absolutely priceless.
For the occasion, Room actor was decked out custom Armani. But he was also wearing Darth Vadar socks and Millennium Falcon cufflinks. Talk about personal style! The kid has class. He's also just working his way into everyone's hearts. One Twitter user pretty much summed up everyone's reaction to watching the kid enjoy his first Oscar's ceremony, tweeting, "Jacob Tremblay getting excited to see the Star Wars characters is actually the most adorable thing everrr."
Tremblay's Star Wars fandom runs deep. At the Golden Globes, he had a lightsaber battle with Oscar Isaac. That was also a dream come true for Jacob, who said that Isaac plays his favorite character, Poe Dameron in Star Wars: The Force Awakens. Tremblay told Entertainment Weekly that he thought the newest movie was "awesome."
Tremblay is having the time of his life tonight. And what kid wouldn't? Some on Twitter though are so taken with him that they are starting to protest what they're now calling an Oscar snub for Best Supporting Actor for Tremblay's role in Room. One user tweeted that he "got the worst snub of the year by not even getting a nomination. May have been the greatest child performance ever." There's even a #JusticeforJacob hashtag making its way around social media.
But Tremblay hasn't shown one sign all night of caring that he wasn't up for his own statuette. On the red carpet, he said he was hoping that Leonardo DiCaprio would win for Best Actor and he that he was crossing his fingers his co-star Brie Larson would take home the Best Actress award for Room. It would be cute to see him run up on stage if Room actually does win in the Best Picture category, which is entirely possible. The thing is, I don't even think Twitter will be able to contain themselves if they have to lower the mic stand for the pint-sized actor to say his "thanks yous." If they can't take his cufflinks or him trying to peek R2-D2, how will we ever be able to handle him thanking his Hot Dad? I mean, come on, Jacob. Give us a break.