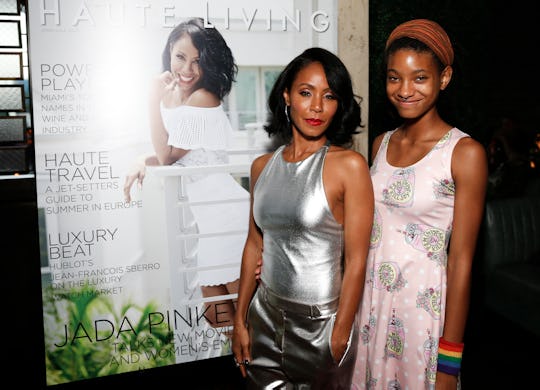 Rochelle Brodin/Getty Images Entertainment/Getty Images
Jada Pinkett Smith's Advice After Willow Walked In On Her Having Sex Is Spot-On
Those of us who have been at this parenting gig for more than few years know that sometimes, it takes a little creativity to carve out time for intimacy with your partner. This has a lot to do with the fact that children have a tendency to follow mom and dad everywhere. Add to that the possibility of bed-sharing or co-sleeping, and "alone time" is even harder to come by. In times of desperation, plenty of parents have probably waited until their little ones were distracted — with a movie or otherwise — before quietly slipping away for a quickie. However, even seasoned parents might forget one of the most important steps of this delicate balancing act. And Jada Pinkett Smith's advice after learning Willow walked in on her having sex is priceless.
If you haven't had a chance to check it out yet, Red Table Talk is a Facebook Watch series that features Jada Pinkett Smith, 46, her mother, Adrienne Banfield-Jones, 64, and her daughter, Willow, 17, tackling a variety of topics, The Source reported. And as new viewers soon find out, literally nothing is off the table. In a recent episode, Pinkett Smith found out that her daughter had previously walked in on her and Will Smith having sex — and they didn't even know about it! (Can you say "awkward"?) Here's how that conversation went down, in case you were wondering.
"My introduction to sex was obviously walking in on you and Daddy," Willow, 17, said, People reported.
"When the hell did you walk in on us?" Jada responded to her daughter, appearing shocked about this revelation. Willow continued:
I was in Utah… not Utah. Aspen. I was going downstairs to get some juice and I saw for a little moment and I ran away. I was like, 'Oh my God, this is so crazy. What did I just see?'
In a recent appearance on The Tonight Show Starring Jimmy Fallon, Smith reacted to this clip with a resounding, "Lock your doors! Lock your doors. Lock. Your. Doors," Just Jared reported. (I'd have to second that piece of advice.)
To be honest, though, we recently moved to a new house, and not only does the master bedroom have two doors leading to the hallway — but neither of these doors has a lock. So I'm thinking it's only a matter of time before one of our three (soon to be four) kids walks in on something they never intended to see.
As embarrassing as such a situation might be for either party, I don't think there's any serious scarring happening as a result of accidental walk-ins. At least there wasn't for me. When I was maybe 8 or 9, I remember thinking, "Hmm. I haven't seen mom and dad for a little bit. Where did they go?" So of course, I went looking for them. Upon turning their bedroom door knob and opening the door just a crack, a flurry of flying sheets welcomed me. I immediately closed the door and went to my room. Clearly, I had interrupted something I was supposed to. Even though I didn't actually see anything, this was apparent. To this day, no one has spoken of this incident.
Sexologist Logan Levkoff explained that situations like this actually aren't that out of the ordinary. "Being walked in on during sex is a very common experience — and a great example of why it is important to knock first, and always respect someone's privacy," Levkoff told CNN. "But before you say anything to your child, you are going to need to determine what they heard, saw, and if they even care about what was going on."
A lot of it depends on the age of the child. Toddlers and young children in particular might be confused — or even concerned — about what was happening, sex therapist Margie Nichols explained. "Children sometimes think something violent or frightening is happening, and that should be addressed," Nichols told CNN. "When my son was a toddler, he thought his stepdad was 'hurting' me because, well, we were way too loud and even very late at night my son could hear us."
So there you have it. Although your children probably won't be scarred for life if they walk in on you and your partner doing the deed, locked doors never hurt, either. Just ask Jada Pinkett Smith.