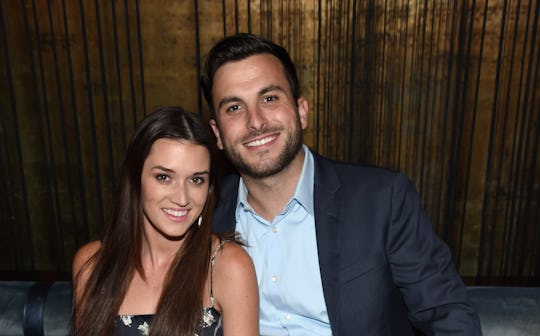 Jamie McCarthy/Getty Images Entertainment/Getty Images
Jade Roper & Tanner Tolbert Are Getting Real About Diapers & Other Messy Parenting Facts
Every veteran parent loves giving advice to those about to join the club, whether it's because they're genuinely helpful or because they relish scaring the crap out of their friends (just a little). So it's understandable that Bachelor in Paradise alums Jade Roper and Tanner Tolbert's warnings for new parents are super gross, but also actually pretty helpful. That's the best way to do it; tell the ugly truth, but then also give some tips on how to handle the messier side of parenting.
When Us Weekly asked the couple about diaper bag essentials, Tolbert deferred to his wife, admitting that he doesn't have much experience in that department. "My rule is one a day," he confessed, "but I've been slacking." Dude, one? I get that you're busy selling cars all day, but I'm sure you're around for at least two or three changes. Anyway, Roper had a hot tip for all the pregnant moms (and helpful dads) on preparing to take your tot out into the world. "I would say always pack an extra onesie," said the mother of Emerson, age 9 months. "You never know when a blowout is going to happen."
A blowout, for those lucky enough to have not experienced one, is when a baby's... uh... waste, let's say... explodes out of their diaper and up their back. It can be caused by an ill-fitting diaper, one that's either too large to fit snugly against the baby's back, or too small to contain what it needs to. Sometimes, there's just no way to prevent one, short of potty training someone who's not even old enough to sit up on their own. Case in point: Pampers, a company that has every reason in the world to claim that their product can eliminate this problem, warns on its website, "Blowouts will happen, so always carry a spare change of clothes for your baby." And might I add: more wipes than you could ever imagine using, just in case.
While we're on the topic of gross stuff, let's really dig in. "How many times should a new parent expect to be puked on?" the interviewer asked the couple. "Oh, my goodness, all the time," laughed Tolbert. "Countless times." Roper concurred, interjecting, "Daily." Remember those wipes I was talking about? Here's another reason why. But to be clear, there is a difference between spitting up and vomiting, even though "puke" is sometimes used interchangeably to refer to the two. First of all, there's a difference between real vomiting and just spitting up. Spitting up isn't serious, the American Academy of Pediatrics advises, but if your baby does regularly and forcefully vomit, that's cause for concern.
The couple also shared that they don't feed Emerson baby food, instead just mashing up whatever they're eating, and when asked what beauty products moms "shouldn't live without," Roper replied, "I would just say really great skin care products, because you probably wont be wearing a lot of makeup." Coincidentally, she is currently offering a coupon code for an "amazing skin care product" on her Instagram, called the "FOREO LUNA fofo," which appears to be something like a rubber Clarisonic brush. Way to hustle, girl! I'm genuinely kind of curious about it now.
Tolbert didn't have a whole lot of tips to offer, admitting that "the dad secret" to getting a baby to stop crying is "hand her to Mom," but he did recommend one product. "Honestly, the thing that saved our lives, it's, like, a toy jumper," he raved. "Sometimes when she's being crazy, it's the only thing that will calm her down. It's easy because you don't have to hold them 24/7 in it." And Roper's final piece of advice is worth remembering: "Just embrace the chaos," she advised, "because you really can't control much." Especially body fluids.