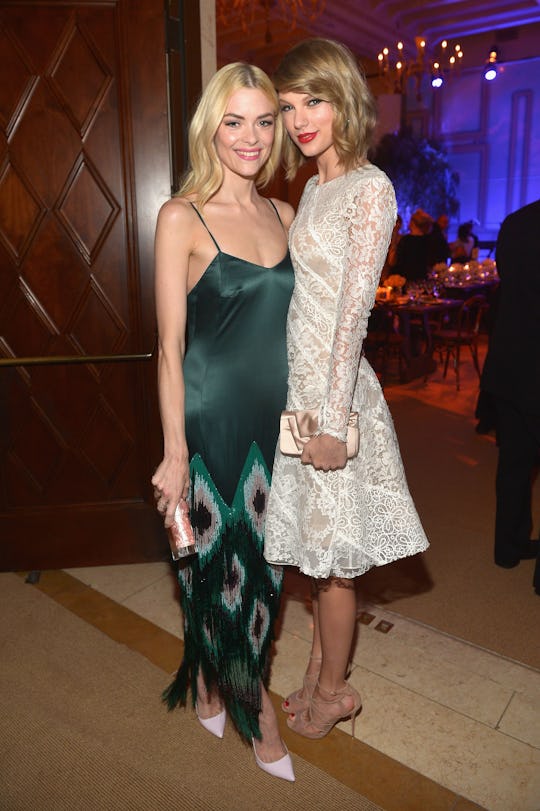 Charley Gallay/Getty Images Entertainment/Getty Images
Jaime King's Letter To Taylor Swift Will Make You Tear Up
Jamie King has put the spotlight back on Taylor Swift after all the Kimye drama last month. This time, though, it's a spotlight Swift probably doesn't mind as much. King, longtime Swift Squad Member, revealed that her BFF did something quietly selfless on behalf of her son, Leo Thames, back in July. Little Leo Thames, who also happens to be Swift's godson, was diagnosed with transposition of the great arteries (TGA) when he was only 20 weeks old. As a result, the newborn baby had to undergo a major heart surgery. To mark her godson's first trip around the sun, Swift made a generous donation to the hospital and team of doctor's that saved his life. Make sure you grab some tissues before reading the letter King wrote to Taylor Swift because it will seriously make you tear up.
The Hart of Dixie actress shared a picture of a letter sent to her by Cedars-Sinai Hospital in Los Angeles that informed her of the donation made by Swift on behalf of Leo Thames Newman. The generous donation was designated to specifically support the team of doctors, including Dr. Alistair Phillips, that operated on King's infant son. Cedars-Sinai explained how important tribute gifts and donations are to the hospital's ability to continue to do life saving work, writing that they are "essential to the patient care programs and services...They make the good work of the physicians, surgeons, researches, and nursing staff possible."
They letter signed off with the hope that King and her husband were "pleased to learn of this tribute gift in your son's honor." It seems that Leo Thames' parents definitely were most certainly pleased.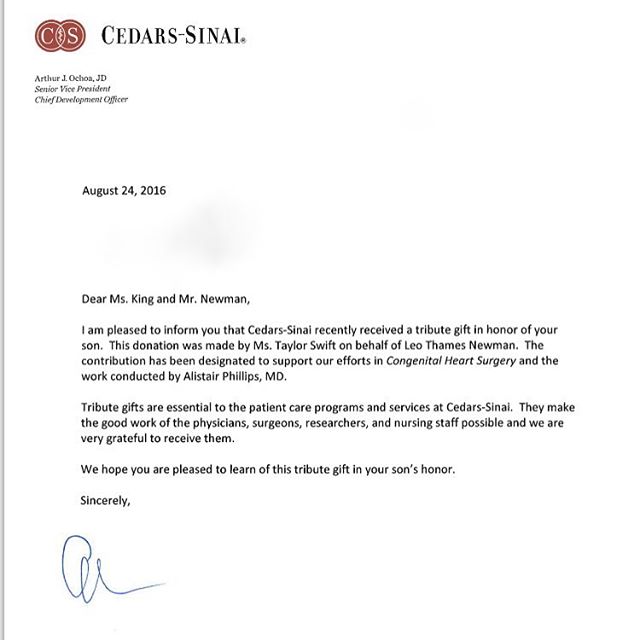 King posted the letter from her son's hospital to her Instagram account, accompanied by an emotional letter to her best friend. Before taking to social media to thank Swift, King had never publicly spoken about her son's condition. She described that time in her family's life as "terrifying and traumatic" and keeping silent about their situation made her feel "isolated and confused." Only a few close friends new about Leo Thames' diagnosis. One of those friends was Swift, who was there for King and her family throughout the ordeal.
[Taylor Swift] does so many selfless acts that go unnoticed because she does them silently, from such a great place of unconditional giving. As the Godmother of Leo Thames for his birthday she gave an incredible donation to the people that saved his life Dr. Allistar Phillips and his brilliant team. It made us realize that silence cannot connect other parents & people going through these issues. TS knew that by giving back in this way would be the greatest gift one could give to us, to Leo Thames and to all of those with congenital heart issues. She came to the ICU to comfort us, to hold and bond with him with such grace & strength.
Swift's birthday present to baby Leo inspired King to talk about her experience with TGA. King and her husband want to work to bring awareness to this illness by speaking out. These two besties are making the world a better place one birthday present and one Instagram post at a time.
King also made sure to reassure her followers that Leo Thames is "the strongest, healthiest boy because of this team. He will live a full and whole life [and] never have to look back."
Taylor Swift is, as ever, #SquadGoals, #FriendshipGoals and now she's #GodmotherGoals. Leo Thames is lucky to have her.