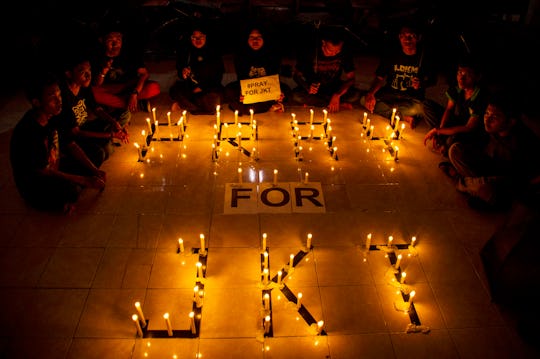 Oscar Siagian/Getty Images News
Jakarta Terror Attack Photos Are Disturbing & Show A City In Chaos — PHOTOS
News outlets worldwide on Thursday released the first disturbing images of the Jakarta terror attack after a series of explosions rocked the Indonesian capital in the early morning hours, killing at least two. The photos showed alarming footage of civilian injuries and the massive response by local police to the country's first major terror attack since 2009. The Guardian reported that attackers set off a series of explosions near the downtown area, with the initial blast occurring just inside a Starbucks cafe in central Jakarta. The outlet confirmed that armed militants were responsible for setting off several other subsequent blasts in the period that followed. Several of the attackers exchanged gunfire with local police at the scene for over an hour and a half.
Jakarta police believed the militants had ISIS ties, several news outlets reported. Jakarta police chief Tito Karnavian told reporters that officials believed Indonesian national Bahrun Naim had been "planning this for a while."
"He is behind this attack," the police chief stated to reporters on Thursday. Those claims were later confirmed when militant terror group ISIS took responsibility for the Jakarta attack late in the day. By 3 p.m. local time, authorities had announced an end to the immediate threat after five of the attackers were killed in multiple gunfights with police. They added that four more assailants had been taken into custody.
Reports Of Police Chasing Suspects & Trading Gunfire Left Citizens In A Panicked State:
Various Detonations & Gunfire Left At Least Two People Dead & Several More Injured:
Some Began Drawing Comparisons To The Recent Attacks In Paris And Istanbul
Authorities have since reported a possible tactical connection between the recent attacks in Jakarta, Istanbul, and Paris. In each case, local police have to mobilize quickly to quell an unknown number of militant attackers rampaging an urban area. In what BBC News calls "marauding terrorist firearms attacks," the reported goal is to kill as many unarmed civilians as possible in order to achieve maximum publicity.
According to The Guardian, Indonesia is the world's most populous Muslim country, and in recent years had successfully stepped up a national campaign to fight militant extremists.
Images: Oscar Siagian/Getty Images News (9)